General Atomics Aeronautical Systems' Mojave unmanned air vehicle (UAV) has conducted an initial trial from the UK Royal Navy (RN) aircraft carrier HMS Prince of Wales.
Recently conducted off the US East Coast, the activity saw the 17m (55ft 8in)-wingspan and 9m-long, remotely-piloted aircraft land and take-off from the 65,000t vessel's flight deck.
The developmental Mojave has a maximum take-off weight of 1,630kg (3,600lb), and is capable of carrying four Lockheed Martin AGM-114 Hellfire air-to-surface missiles for armed surveillance and strike tasks.
"The Mojave trial is the first time that a remotely piloted air system of this size has operated to and from an aircraft carrier outside of the United States [inventory]," says Rear Admiral James Parkin, the RN's director develop.
"With so many international partners interested in the results of these trials, I am delighted that we are taking the lead in such exciting and important work to unlock the longer-term potential of the aircraft carrier and push it deep into the 21st Century as a highly-potent striking capability," says Vice Admiral Martin Connell, the RN's Second Sea Lord.
"During a deployment centred around experimentation and expanding the envelope of the Queen Elizabeth-class [aircraft carrier], this is one of the highlights," says Commander Martin Russell, who heads air operations aboard HMS Prince of Wales.
During its current months-long deployment to the USA, the ship also has hosted expanded operating trials with the Lockheed Martin F-35B, and US Marine Corps assets including Bell Boeing MV-22 Osprey tiltrotors.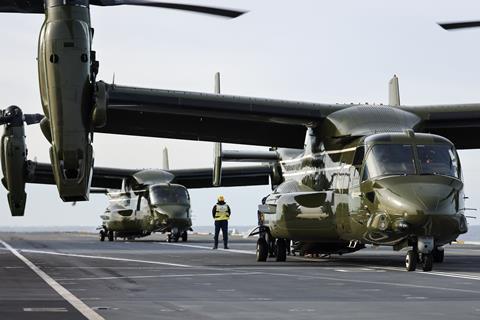 One of two aircraft carriers operated by the RN, the vessel is due to return to the UK during December.
Separately, the RN says the Schiebel S-100 Camcopter – to be named Peregrine in its service – will enter operational use in January 2024. The unmanned vertical take-off and landing aircraft will perform short-range surveillance operations.

Craig Hoyle joined Flight International in 2003, and has edited the now monthly title since 2015. He has reported on the UK, European and international military aviation sector for more than 25 years, and produces our annual World Air Forces directory.
View full Profile