Thales has hailed the performance of its Spy'Ranger 330 unmanned air system (UAS) during French army operations in west Africa since the type's operational debut late last year.
France's DGA defence procurement agency in 2016 selected the Spy'Ranger 330 to meet the army's mini reconnaissance drone system (SMDR) requirement. Paris ordered 35 systems, each including three air vehicles and ground control station equipment.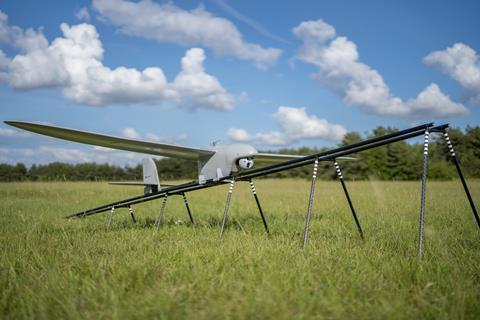 "Since December 2020, SMDR is combat-proven, being daily committed in operations in the toughest environment in Mali," says Pascal Secretin, Thales's product line director for imagers and sensors. "French army feedback recently highlighted that SMDR provided a capability jump versus the existing generation of mini-drones," he adds.
With a 4m (13ft 1in) wingspan, up to 3h endurance and beyond line-of-sight operating range of 16.2nm (30km), the air vehicle weighs 15kg (33lb). It carries an electro-optical/infrared sensor, communications equipment and datalink, all produced by Thales.
Secretin attributes the type's performance to "its unrivalled endurance in such tough environments, level of safety, range of operations and optronic day and night vision system".
"SMDR is contributing every day and every night to mission success, and has already helped to save soldiers' lives," he says.
Thales has so far delivered 12 of the on-order SMDR systems, and has separately begun producing a larger Spy'Ranger 550 model for an undisclosed customer.
Meanwhile, eyeing a projected massive increase in the commercial use of UAVs over the coming years, Thales is promoting its TopSky air traffic management technology for use by drone operators.
The company and Operational Solutions also have announced entering into a teaming agreement to offer the latter's FACE command and control software with Thales's counter-UAV and unmanned traffic management technology.
Referring to the challenge of safely introducing such a high volume of UAVs alongside manned aircraft while also defending against their reckless or malicious use, Olivier Rea, Thales's head of unmanned traffic management services, notes: "We have to do what aviation did in [its first] 100 years within 10 years."
Thales in early July launched its UAS 100 product – a three-engined air vehicle optimised for flight in non-segregated airspace, after flying a half-scale model of the design. In addition to seeing broad commercial applications for the platform, it sees underpinning technologies as also applicable to the urban air mobility sector.