Mission capable rates have declined for both US Air Force (USAF) and US Navy (USN) aircraft, according to the US Government Accountability Office (GAO).
In a new report, the GAO took a close look at readiness for four USAF and four USN platforms from 2015 to 2021.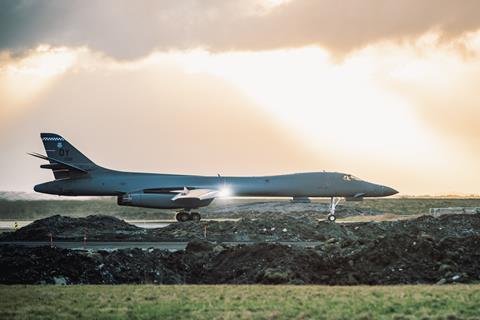 USAF assets covered included the Boeing B-1B and KC-135, plus the Lockheed Martin F-22 and C-5M. Navy assets surveyed were the Lockheed C-130T and KC-130T, and the Boeing F/A-18E/F Super Hornet and P-8A.
All eight types saw their mission capable rates decline over the six-year survey, and all failed to meet their mission capable goals. Aircraft types GAO reviewed covered a total of 1,355 airframes that cost about $13.6 billion to maintain in the 2020 fiscal year to 30 September 2020.
Of the eight aircraft type, the F-22 and KC-130T saw the biggest mission capable rate shortfalls, with the F-22's mission capable rate dropping 16.7 percentage points to 50.3% in 2021, while that of the KC-130T also fell by 16.7 percentage points to 36.5%.
"Unit maintenance personnel we spoke with on this review acknowledged a decline in mission capable rates as a result of delays in completing unit level maintenance," says the GAO.
"They said fewer mission capable aircraft can limit training and other flying opportunities for squadrons, and forces aircraft that are mission capable to fly more often."
Issues range from inexperienced maintainers, who require resources to train up, to spare parts shortfalls. Cannibalisation of parts between aircraft is also a common practice.
Some cannibalised parts are hard to access and not designed to be removed. Moreover, if the part breaks it could result in two aircraft becoming non-mission capable.
It gives the example of the B-1B's wing radomes, which protect the bomber's antennae. The part is "very fragile". Every time it is moved between aircraft there is a risk of it breaking.
"Since this part is no longer being manufactured, B-1B officials said there is a significant risk that an accident could render multiple aircraft non-mission capable for a long period of time," says the GAO.
In addition, cannibalisation masks the number of missing parts, which exacerbates the sustainment challenge.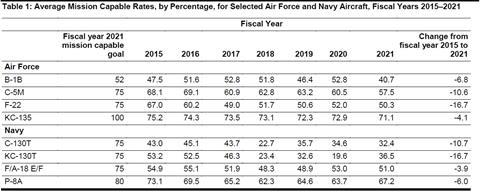 Other challenges for USAF and USN maintainers include accessing electronic technical manuals owing to issues such as a lack of stable Internet connections, and that some equipment on aircraft is proprietary to defence contractors.
"Two of the selected aircraft in our review – the F-22 and the KC-135 – have components whose data are proprietary to the manufacturer or vendor and are not easily accessible by unit maintenance personnel, which can hinder the units from performing maintenance," says the GAO.
The GAO acknowledges that the USAF and USN have taken some steps to address unit-level maintenance issues, but feels these are insufficient. It suggests that Congress require both forces to submit mitigation plans related to maintenance challenges, and place far greater priority on sustainment reviews.