The US government has cleared a possible $94 million deal for Australia to obtain AGM-88E2 Advanced Anti-Radiation Guided Missiles (AARGMs).
The deal covers up to 15 Northrop Grumman AGM-88E2 weapons, in addition to logistics and programme support, says the US Defense Security Cooperation Agency (DSCA).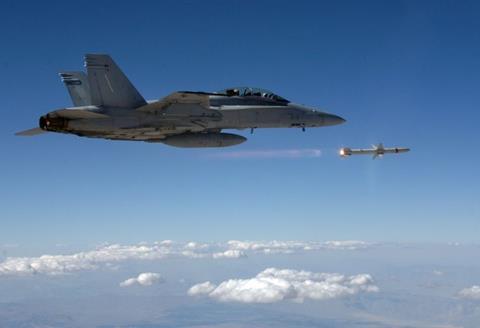 Key elements include 15 guidance sections, control sections, rocket motors, and warheads. Among services covered are test support for AARGM on Boeing EA-18G Growlers operated by the Royal Australian Air Force (RAAF).
"The proposed sale will improve Australia's capability to meet current and future threats by suppressing and destroying land- or sea-based radar emitters associated with enemy air defences," says the DSCA.
"Destruction or suppression of enemy radar denies the adversary the use of air defence systems, thereby improving the survivability of tactical aircraft. Australia will have no difficulty absorbing this equipment into its armed forces."
The RAAF operates 11 EA-18Gs, the electronic warfare variant of the F/A-18E/F Super Hornet.
In 2017, the DSCA cleared the sale of 110 anti-radiation missiles to Australia, comprising 70 Raytheon AGM-88B High Speed Anti-Radiation Missiles and 40 AGM-88E AARGMs.