The US government has cleared a possible sale of 36 Boeing F-15ID fighters to Indonesia, just hours after the Southeast Asian nation ordered 42 Dassault Rafales.
The possible F-15ID sale would be worth up to $13.9 billion, according the US Defense Security Cooperation Agency (DSCA).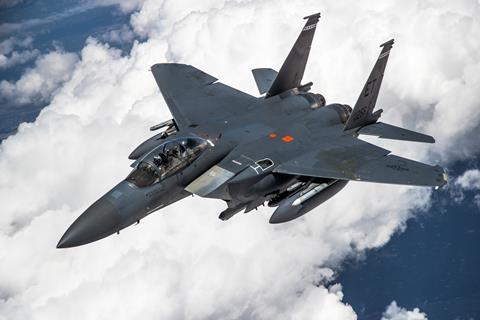 Based on the equipment included in the potential sale, the 'F-15ID' configuration is essentially the F-15EX now entering service with the US Air Force.
Including the 36 fighters, the package includes 87 GE Aviation F100 or Pratt & Whitney F110 engines, 45 Raytheon Intelligence & Space AN/APG-82(v)1 active electronically scanned array radars, and a broad range of equipment and services.
"This proposed sale will support the foreign policy goals and national security objectives of the United States by improving the security of an important regional partner that is a force for political stability, and economic progress in the Asia-Pacific region," says the DSCA.
"It is vital to US national interest to assist Indonesia in developing and maintaining a strong and effective self-defence capability. The proposed sale will improve Indonesia's capability to meet current and future threats by enabling it to provide increased deterrence and air defence coverage across a very complex air and maritime domain. Indonesia will have no difficulty absorbing these aircraft and equipment into its armed forces."
The DSCA statement came just hours after Dassault's 10 February announcement that Indonesia has ordered 42 Rafales.
Local media had previously quoted Indonesian Air Chief Marshal Fadjar Prasetyo as saying Jakarta would choose between either the F-15EXs or Rafale, although once he hinted at the possibility of a mixed buy of 36 Rafales and eight F-15EXs.
Prasetyo has also been quoted as saying that Indonesia has fully abandoned any hope of ordering the Sukhoi Su-35. The threat of sanctions under the US government's Countering America's Adversaries Through Sanctions Act (CAATSA) apparently caused Jakarta to scuttle this long-desired fighter deal.