The US government has cleared the potential sale to Egypt of 12 Lockheed Martin C-130J-30 tactical transports, with an estimated value of $2.2 billion.
The proposed package covers the 12 aircraft, Rolls-Royce AE-2100D turboprop engines, and an extensive list of other equipment and services, says the US Defense Security Cooperation Agency (DSCA).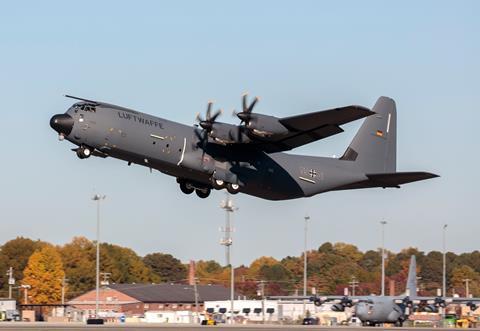 "The proposed sale will improve Egypt's capability to meet current and future threats by providing airlift support for its forces by moving supplies, equipment, and people, thus strengthening its capacity in the security and humanitarian arena," says the DSCA.
"This airlift capability would assist with border security, the interdiction of known terrorist elements, rapid reaction to internal security threats, and humanitarian aid. Egypt also intends to utilize these aircraft for maritime patrol missions and search and rescue missions in the region."
Cirium fleets data shows that the Egyptian air force operates 26 C-130-family aircraft. Of these, 21 are C-130Hs with an average age of 43.3 years. In addition, it operates a trio of C-130H-30s with an average age of 31.4 years, as well as two VC-130Hs with an average age of 42.9 years that serve in the VIP transport mission.