The US government has cleared four potential Foreign Military Sales (FMS) to Egypt, Kuwait and Saudi Arabia.
The four FMS cases were posted by the US Defense Security Cooperation Agency (DSCA) on 29 December.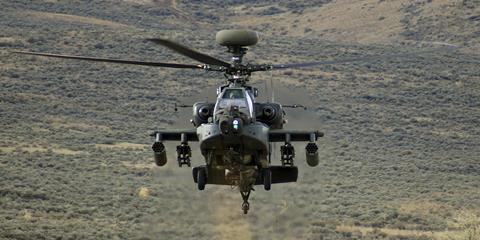 The Kuwait FMS case clears the possible acquisition of eight new AH-64E Apache Longbow attack helicopters, and the remanufacture of 16 Kuwaiti AH-64Ds into the more advanced E standard. Also included in the package are a broad range of equipment, weapons, sensors, training, and related items.
"The proposed sale of the AH-64E Apache helicopters will supplement and improve Kuwait's capability to meet current and future threats by enhancing Kuwait's close air support, armed reconnaissance, and anti-tank warfare mission capabilities," says the DSCA.
The Saudi FMS case covers 3,000 Boeing GBU-39 Small Diameter Bomb 1 (SDB 1) munitions for a cost of up to $290 million.
"The proposed sale will improve Saudi Arabia's capability to meet current and future threats by increasing its stocks of long-range, precision air-to-ground munitions," says the DSCA.
"The size and accuracy of the SDB 1 allows for an effective munition with less collateral damage. The potential sale will further strengthen the interoperability between the United States and Saudi Arabia."
Two separate FMS cases relate to Egypt. The first is a potential sale of 20 Lockheed Martin AAQ-33 Sniper advanced targeting pods for $65.6 million. The FMS case does not state the type of aircraft on which the pods will be deployed, but Cirium fleets data indicates that Egypt has 218 in-service Lockheed F-16s, including 33 A/B-model examples and 185 C/Ds.
The final proposed sale, also for Egypt, is for the provision of the Northrop Grumman Large Aircraft Infrared Countermeasures (LAIRCM) suite aboard an Airbus A340-200 that is used to transport the country's head of state. The value of the LAIRCM deal is $104 million.
"The self-protection suite will improve the survivability of the Airbus from missile attack," says the DSCA.
Cairo's single A340-200ACJ was delivered in 1995.