The US Defense Advanced Research Projects Agency (DARPA) has conducted a second successful test flight of its Hypersonic Air-Breathing Weapon Concept (HAWC) vehicle.
After release from a carrier aircraft, the Lockheed Martin-produced hypersonic vehicle was boosted to the launch envelope of its Aerojet Rocketdyne air-breathing scramjet engine.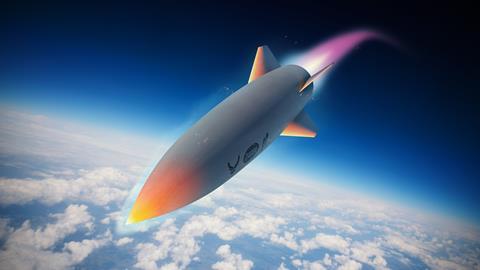 At this point, the scramjet took over and "quickly accelerated" the vehicle to a cruise speed over Mach 5, which it maintained for an "extended period of time". It reached altitudes higher than 65,000ft and travelled over 300nm (556km).
"This Lockheed Martin HAWC flight test successfully demonstrated a second design that will allow our warfighters to competitively select the right capabilities to dominate the battlefield," says Andrew Knoedler, HAWC programme manager in DARPA's Tactical Technology Office.
"These achievements increase the level of technical maturity for transitioning HAWC to a service programme of record."
DARPA did not provide the exact date of the test, or other details such as the launch aircraft and exact flying time. It is also did not state if the vehicle struck a simulated target.
The second HAWC test flight was in a different configuration to the first successful flight in September 2021, performed with a vehicle produced by Raytheon using a Northrop Grumman Scramjet.
DARPA adds that air-breathing hypersonic weapons will be effective at evading enemy defences and conducting quick strikes. Their speed is such that they can destroy targets with kinetic energy alone.
"Our work with DARPA and [the US Air Force Research Laboratory] on the HAWC programme demonstrates that air-breathing hypersonic systems are a cost-effective solution to address rapidly emerging threats in the global security arena," says John Clark, who heads the Lockheed Martin Skunk Works division.
"The success of this flight test is evidence that a strong partnership between government and industry is key to solving our nation's most difficult challenges and enabling new capabilities to counter threats to US and allied forces."
Hypersonic weapons are seen as playing a niche – but critical – role in future conflicts, allowing for the rapid prosecution of time sensitive targets. Beijing and Moscow have also conducted extensive work into hypersonic capabilities.