A US government report has highlighted improvements in the Afghan air force (AAF), as well as areas that are still proving challenging.
In a December 2019 report to Congress, the Department of Defense (DoD) lays out the US military strategy in Afghanistan, the chief objective of which is a settlement of the country's long-running war and protecting the USA from terrorist attacks. It details Kabul's entire military establishment, in which airpower plays a key role.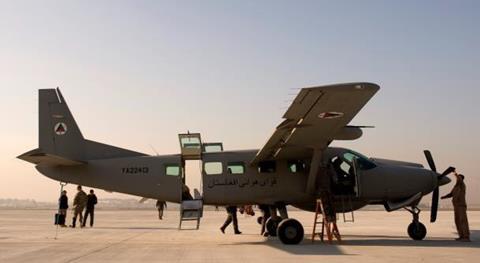 "The Afghan air force continues to show steady improvement in pilot skill, ground crew proficiency, and air-to-ground integration," says the report.
"The AAF can independently plan and provide air assets for logistics, resupply, humanitarian relief efforts, return of human remains, MEDEVAC, casualty evacuation, non-traditional ISR [intelligence, surveillance, and reconnaissance], air interdiction, close air attack, armed overwatch, and aerial escort missions."
In the last year, the AAF has started to routinely deliver laser-guided bombs from its Embraer A-29 Super Tucano attack aircraft, and BAE Systems Advanced Precision Kill Weapon System rockets from its Cessna AC-208 Eliminators – a military variant of the Caravan. Moreover, crews are better able to limit collateral damage and reduce civilian casualties.
Overall, the AAF has 206 aircraft, of which 163 are within Afghanistan, ready for either immediate use or in short-term maintenance.
Fixed-wing assets include four Lockheed Martin C-130s, 24 C-208s, 10 AC-208s, and 25 A-29s. Rotorcraft include 45 Mil Mi-17s, 49 MD Helicopters MD530s, 35 Sikorsky UH-60As, and four Mi-35s. The report says that the four Mi-35s have not been part of the authorised fleet since 2015, although the AAF still attempts to sustain them.
"In February 2019, the first AC-208s arrived in Kabul to support the AAF with an emerging ISR and precision strike capability," says the DoD report.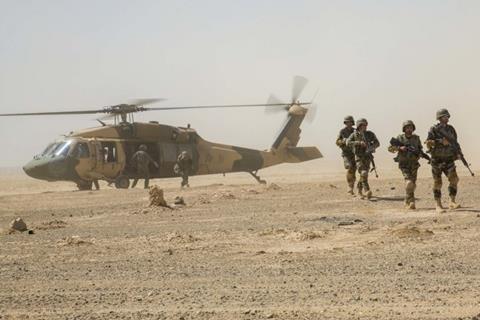 "Since then, AC-208 combat capabilities have risen steadily including the capability to use the [L3 Wescam] MX-15's laser-designator feature to enable an AC-208 to 'buddy lase' or guide a laser-guided bomb from an A-29, for partnered A-29 missions. The AC-208 fleet is also developing a night operations capability."
In addition, the country's Special Mission Wing has its own fleet of Mi-17s, the only part of the Afghan military with night vision and helicopter air assault capabilities. The US government plans to replace this force of Mi-17s with an unspecified number of Boeing CH-47 Chinooks by the end of 2023.
In addition, the military is growing increasingly proficient using UAVs, namely 57 Insitu ScanEagles and 120 Challenger Aerospace Systems Wolfhounds.
Challenges remain a lack of qualified candidates both for flight and maintenance crews. The lack of proficiency in English is also an issue.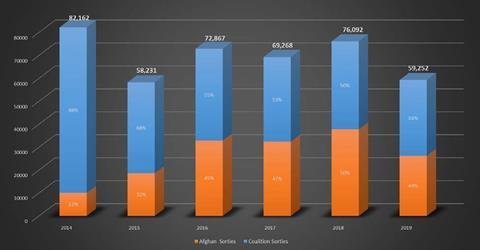 "The AAF will always require some level of long-term contractor support, but is it on a path to independent operations for the day-to-day generation of operations," the report says.
Nonetheless, the AAF will continue to rely on allied air forces for sortie generation. A table shows that in 2019 it operated 44% of all sorties, compared with 56% for coalition forces. This is below the 2018 figure of 50%, but a major improvement over 12% of sorties in 2014.