The US government has cleared the possible of sale of 12 Lockheed Martin F-16 Block 70/72 fighters to the Philippines, as well as sales of anti-ship and air-to-air missiles.
The F-16 offer involves 10 single-seat F-16Cs and two F-16Ds, according to the US Defense Security Cooperation Agency (DSCA).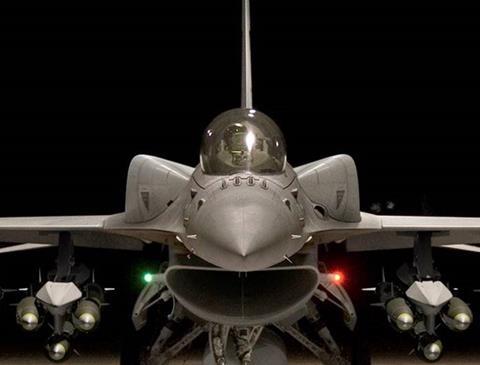 The package includes a broad range of equipment and services, and has a total potential value of $2.43 billion.
Key items include 15 Northrop Grumman APG-83 active electronically scanned array radars, 24 Raytheon AIM-120 Advanced Medium Range Air-To-Air missiles, targeting pods, and precision ground-attack munitions.
"The proposed sale will improve the Philippines' capability to meet current and future threats by enabling the Philippines to deploy fighter aircraft with precision munitions in support of counter-terrorism operations in the southern Philippines, increasing effectiveness and minimising collateral damage," says the DSCA.
Manila is also considering Saab's Gripen C/D for its fighter requirement.
The DSCA also announced two separate deals for the Philippines: a potential $120 million deal for 12 Boeing AGM-84L-1 Harpoon air-launched anti-ship missiles; and a potential $42.4 million deal for 24 Raytheon AIM-9X Sidewinder II air-to-air missiles. Both packages include ancillary equipment, technical assistance, and other items commensurate with advanced weapons.
The DSCA has this to say of the Harpoon deal: "The Philippine air force is modernising its fighter aircraft to better support its own maritime security needs. This capability will provide the Philippine air force the ability to employ a highly reliable and effective system to counter or deter maritime aggressions, coastal blockades, and amphibious assaults."
Though the DSCA statement does not name China, Manila is increasingly at odds with Beijing owing to the latter's aggressive territorial expansion in the South China Sea.
The Philippine air force retired its last dedicated fighter aircraft, the Northrop F-5, in 2004. The most advanced types in its current inventory are 12 Korea Aerospace Industries FA-50 trainer/attack jets, and six Embraer EMB-314 Super Tucano attack aircraft.