The US government has cleared the potential sale to Germany of up to 969 Raytheon AIM-120C-8 Advanced Medium-Range Air-to-Air Missiles (AMRAAM).
The Foreign Military Sales package is valued at $2.9 billion and includes a range of equipment and logistics support related to the weapons, according to a Defense Security Cooperation Agency (DSCA) notice.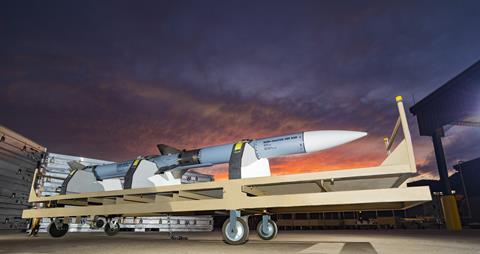 The DSCA announcement follows a request from Germany for the AMRAAMs. The DSCA did not give a timeline for the deal, which still requires Berlin's acceptance.
"The proposed sale will improve Germany's capability to meet current and future threats by ensuring they have modern, capable air-to-air munitions," says the DSCA.
"This sale will further advance the already high level of German air force interoperability with US joint forces and other regional and NATO forces. Germany already has AMRAAMs in its inventory and will have no difficulty absorbing these articles and services into its armed forces."
Cirium fleets data shows that the German air force operates 91 Eurofighters, with another 27 examples on order. Germany also operates 76 Panavia Tornados.
In addition, Germany has orders for 35 Lockheed Martin F-35s.
The German AMRAAM notification follows an early July announcement about a potential Swedish acquisition of 250 AIM-120C-8s in a $605 million package.