The US Federal Trade Commission (FTC) has sued to stop Lockheed Martin from acquiring Aerojet Rocketdyne, saying the $4.4 billion deal has the potential to destroy competition in an area vital to national security and US defence interests.
The acquisition, which was announced in December 2020, would have helped Lockheed grow in areas such as hypersonic products, tactical missiles, integrated air and missile defence, strategic systems and space exploration. Aerojet is already a key element of Lockheed's supply chain.
"The FTC is suing to block Lockheed Martin, the world's largest defence contractor, from eliminating Aerojet, our nation's last independent supplier of key missile inputs," FTC bureau of competition director Holly Vedova says on 25 January.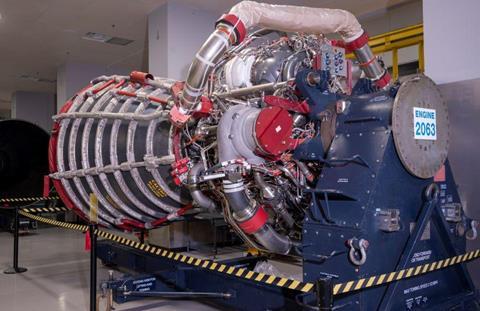 "Lockheed is one of a few missile middlemen the US military relies on to supply vital weapons that keep our country safe," she adds. "If consummated, this deal would give Lockheed the ability to cut off other defence contractors from the critical components they need to build competing missiles."
The complaint alleges Lockheed's proposed acquisition would give Lockheed control over critical propulsion inputs that rivals - including Raytheon Technologies, Northrop Grumman and Boeing - require to compete against it. That, in turn, would endanger national security, limit research and development and stifle innovation, the FTC maintains.
"The proposed acquisition would give Lockheed the ability and incentive to deny, limit or otherwise disadvantage competitors' access to critical propulsion inputs for various weapons system… by affecting the price or quality of the product, the quality of the engineering support and the schedule and contract terms for developing and supplying it," the FTC says.
Earlier in the day, prior to the FTC's announcement, Lockheed said it "continues to believe in the benefits of the transaction for the United States and its allies, the industry and all of the company's stakeholders".
Lockheed and Aerojet agreed to delay closing the merger until after 27 January to "enable the parties to discuss the scope and nature of the merchant supply and firewall commitments previously offered by Lockheed Martin". The company said it "believes it is highly likely that the FTC will vote to sue to block the transaction."
In that case, Lockheed added it would consider its options, which include fighting the suit or scrapping the deal.
"We are reviewing the FTC's complaint and will respond in due course," Lockheed adds on 25 January, after the suit was made public.