The US Department of Defense aims to improve the Foreign Military Sales (FMS) process, to expedite the acquisition of military capabilities by allies and partners.
In a memo, US defense secretary Lloyd Austin outlined six areas where FMS can be improved, according to a Department of Defense statement. The recommendations stem from the work of a "tiger team" set up last year to look at improving FMS.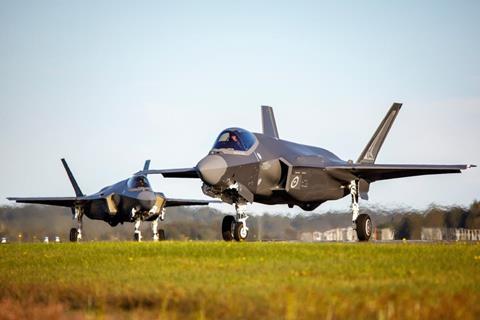 Improvements include getting a better understanding of partner requirements and accelerating discussions around potential FMS deals.
Other initiatives include speeding up reviews for the release of technologies and reducing export barriers. Support for overseas customers will also be improved.
Notably, production timelines will be reduced by incorporating allies and partners into efforts to expand the industrial base, including the use of multi-year contracts.
The FMS process is a key element in the export of US military aircraft.
In early 2022, Kelli Seybolt, Deputy Under Secretary of the Air Force, International Affairs told FlightGlobal that updating the FMS process was a priority.
She noted a focus on making the process "more responsive" to partners, particularly around development costs.
"We're also working on exportability, interoperability and releasability," sais Seybolt. "So we're focused very much on looking at getting combat-credible, proven capabilities into the hands of our partners… it can't just be technical risk over everything else. Because you may protect things but lose the fight if you don't find a balance."
This year has seen several FMS proposals related to aircraft issued, covering aircraft, helicopters, sensors, sustainment, and weapons.