The US government plans to transfer three Lockheed Martin C-130H tactical transports to the Philippines, as it also looks to boost air transportation links between the two countries.
The three C-130Hs will be transferred pending approval from the US Congress, according to a statement issued by the administration of US President Joe Biden.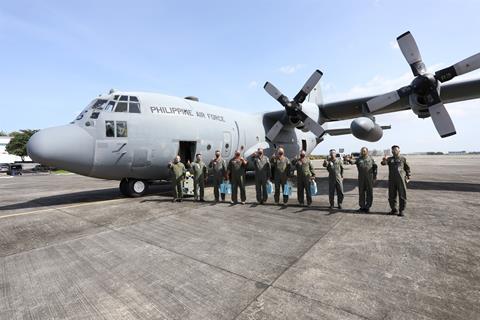 In addition to the C-130Hs, the USA will also transfer patrol vessels.
"These transfers will support the Armed Forces of the Philippines' modernization program by enhancing its maritime and tactical lift capabilities," says the statement.
The statement was issued during a visit to the USA by Philippine President Ferdinand Marcos Jr.
The pair also highlighted that they seek to improve interoperability between the two countries' militaries.
The statement made no mention of the potential sale of Lockheed F-16 Block 70/72 fighters to Manila. In June 2021, the US Defense Security Cooperation Agency outlined a possible sale of 10 single-seat F-16Cs and two F-16Ds for $2.43 billion. Budget issues in Manila have held up the nation's efforts to reinstate a fast jet capability.
The statement also touched on improving commercial aviation links.
"The United States and the Philippines intend to expand air connectivity and modernize our bilateral aviation relationship, which will strengthen our economic and people-to-people ties," it says.
"US and Philippine aeronautical authorities will formalise a technical aviation dialogue at the upcoming APEC (Asia-Pacific Economic Cooperation) Transportation Ministerial Meeting in Detroit to enhance policy and regulatory alignment, with a view towards modernising the US-Philippines air transportation agreement."
Washington DC and the Philippines have drawn closer under the Marcos administration, which has improved US access to Philippine bases under the two countries' Enhanced Defense Cooperation Agreement.
Both countries are concerned about an increasingly belligerent China, which has illegally laid claim to most of the South China Sea, creating a security dilemma. The statement underlined Washington DC's obligation to come to Manila's defence in the event of an armed attack on Philippine vessels and aircraft.