The US Navy (USN) sees its big amphibious assault ships as highly customisable platforms that are well suited to incorporate new aviation capabilities as they emerge.
Speaking aboard the USS Makin Island, USN Captain Andria Slough – the ship's executive officer – notes that during the vessel's 16-year career it has seen significant airpower changes.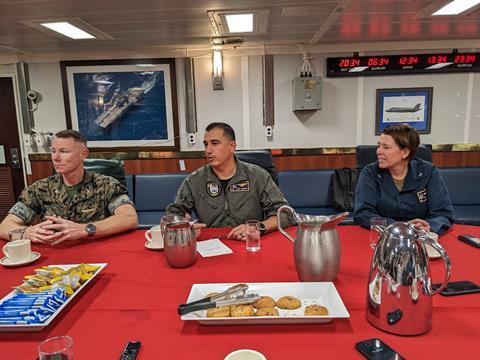 "One of the great things about this class of ship is that as the mission, or as the aircraft or unmanned aircraft come about, Makin Island is able to adapt," she says.
She observes that the ship transitioned from the Boeing Vertol CH-46 Sea Knight helicopter to the far more capable Bell Boeing V-22 Osprey tiltrotor, and from the Boeing AV-8B Harrier II to the Lockheed Martin F-35B.
"Because we are a learning organisation… we will very much be able to adapt to the human machine interface and the use of unmanned vehicles, and the sorts of things that are coming out."
Captain Tony Chavez, commanding officer of Makin Island, adds that the navy sees an important role for unmanned systems, both airborne and on the ocean surface. He observes that unmanned systems are a key element of the service's Force Design 2045 plan.
FlightGlobal visited Makin Island in Singapore. The ship carries a comprehensive US Marine Corps air wing as part of the embarked 13th Marine Expeditionary Unit (MEU). Marine aviation assets aboard the vessel comprise a squadron of 10 F-35Bs and a squadron of 10 V-22s. The USN also operates a trio of Sikorsky MH-60S utility helicopters.
Makin Island is a member of the Wasp class, which the USN says is the largest amphibious ship in the world. The ship displaces 41,000t. With a crew of 1,200, she can also carry 1,700 marines and their vehicles.
Two accompanying vessels, the USS John P Murtha and USS Anchorage, carry other Marine rotorcraft, namely the Sikorsky CH-53E Super Stallion, Bell AH-1Z Viper, and UH-1Y.
Cumulatively, the three vessels form the Makin Island Amphibious Ready Group.
Chavez notes that his vessel has an intermediate depot maintenance capability for the aviation assets carried aboard, but that if needed can also support the helicopters operating from the other two ships – for example producing specific parts.
Chavez adds that when Makin Island is underway flight operations tend to run 10-14h daily, with an hour or two added before and after for "preparation and breakdown." An MH-60S is always airborne during flight operations, and typically several F-35Bs and V-22s will be airborne simultaneously.
During flight operations the Makin Island can still deploy hovercraft and other vehicles from its well-deck.
Marine Colonel Samuel Meyer, commanding officer of the 13th MEU, also touches on the sensing capabilities that the F-35B offers, and how it improves situational awareness of vessels such as Makin Island. "Surveillance, reconnaissance anything like that… it opens up the eyes and the ears of the ship in ways that only fifth-generation fighters can."