The US Navy has awarded the Bell Boeing CMV-22B Osprey tiltrotor with its initial operational capability (IOC).
The US Naval Air Systems Command (NAVAIR) says the type was formally granted IOC in December 2021, but announced the designation on 18 February following its first deployment aboard the aircraft carrier USS Carl Vinson.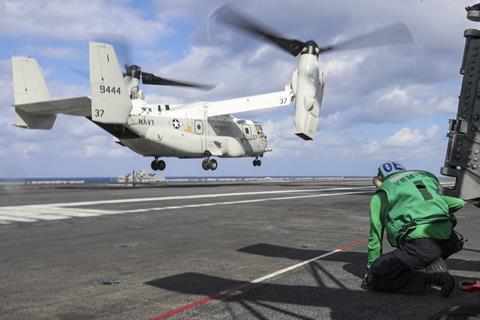 "As we continue to deliver the advanced platforms that will make up the air wing of the future, the CMV-22B provides the necessary support and more to carry our future force," says Rear Admiral Andrew Loiselle.
The CMV-22B is replacing the Northrop Grumman C-2A Greyhound in the Carrier Onboard Delivery (COD) mission. In this role, the Osprey transports personnel, cargo, mail and other supplies to deployed aircraft carriers. The aircraft can also transport the Pratt & Whitney F135 engine that powers the Lockheed Martin F-35.
Owing to larger sponson fuel tanks and the addition of two wing fuel tanks, the CMV-22B carries over 50% more fuel than the baseline V-22. It can transport up to 2,720kg (6,000lb) of cargo and personnel over 1,150nm (2,130km).
During the Carl Vinson deployment, NAVAIR says that Fleet Logistics Multi-Mission Squadron VRM-30 operated along with F-35C fighters and Northrop E-2D airborne early warning and control aircraft.
It enjoyed a mission completion rate of 98% and a mission capable rate of 75%.
NAVAIR adds that 14 out of 44 CMV-22Bs have been delivered, and that full operational capability is expected in 2023.