The US Navy (USN) aims to recover the Lockheed Martin F-35C fighter that fell into the South China Sea following a landing mishap aboard the USS Carl Vinson on 24 January.
In a brief email, the navy confirms that "recovery operations arrangements" are underway to salvage the jet from an unspecified location in the South China Sea.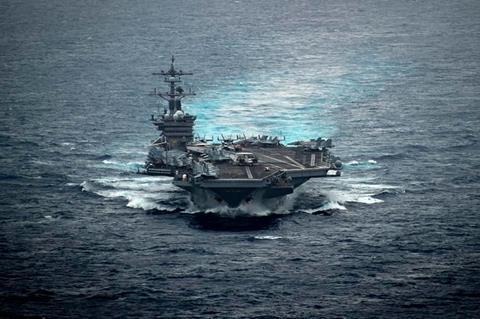 The navy has released few details about the incident, but says that seven sailors were injured, three of whom were evacuated for medical treatment in Manila. All personnel involved, including the pilot, are in stable condition.
Media reports quote the US Navy's Lieutenant Mark Langford as saying that damage to the aircraft carrier was minimal, and flight operations have resumed.
The incident occurred while the Carl Vinson conducted joint operations with the USS Abraham Lincoln. The loss of the F-35C is especially embarrassing, as it marks the first operational deployment of the carrier-capable variant of the fighter.
The USN will place a high priority on recovering the jet, lest it fall into the hands of China or Russia.
In early December, a Royal Air Force F-35B was recovered from the Mediterranean Sea. The jet crashed on 17 November while attempting to take off from the Royal Navy aircraft carrier HMS Queen Elizabeth. A Japan Air Self-Defense Force F-35A that crashed in the North Pacific in April 2019, however, remains on the sea bed after the search was abandoned in June.
While Beijing, which claims most of the South China Sea as its territorial waters in contravention of international law, is certainly watching events closely, it may not have the stomach to challenge USN recovery efforts.
It is keen on hosting a successful Winter Olympics from 4-22 February, and will not want to risk further damaging its already tense relationship with the USA.
Beijing's Global Times newspaper, however, could not resist gloating about the accident. It said that the crash "exposed the exhaustion of the US military, which has been flaunting its prowess against China at the cost of the physical and mental health of its troops and high technical risks."