A US Navy (USN) leader says that work continues to refine missions for the Lockheed Martin F-35, including working closely with operators of the type in the Asia-Pacific.
Rear Admiral Christopher Stone is the commander of Task Force 76/3, an experimental unit formed in 2022 that seeks to more deeply integrate the USN and US Marine Corps (USMC) at the leadership and operational levels in the Asia-Pacific region. A focus is improving joint capabilities amid the growing military threat from China.
The task force comprises 11 warships centered on USS America, an amphibious assault ship that operates three USMC types: the short take-off and vertical landing F-35B, in addition to the Bell Boeing V-22 Osprey tiltrotor and Sikorsky CH-53K heavy-lift helicopter.
"These fifth-generation aircraft are incredibly capable," says Stone of the F-35. "The capabilities that the aircraft itself provides in terms of sensor coverage and weapons capability are truly breathtaking."
Stone says that under Task Force 76/3, USMC F-35Bs are supporting both ground forces as well as surface ships.
"We're also learning how we fuse with the F-35s of our allies and partners in order to contribute to roles and missions as we work together in various support missions around the globe."
In the Asia-Pacific, close US allies such as Australia, Japan, and South Korea operate the F-35.
Stone also acknowledges that the F-35 has had its share of challenges, but says that this is true of other platforms as well, such as the USN's fleet of Littoral Combat Ships.
Stone made the remarks during a media roundtable in Singapore. He was in the country for the launch of the annual SEACAT (Southeast Asia Cooperation and Training) exercise, which is designed to boost engagement among the region's navies.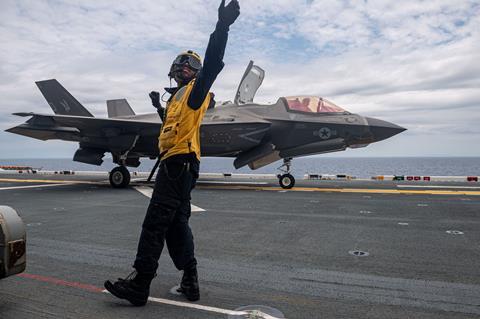 FlightGlobal asked Stone if the USN continues to pursue the "lightning carrier" concept. In 2022, the USN and USMC deployed 20 F-35Bs aboard USS Tripoli for "high tempo" operations. Ordinarily, vessels like Tripoli carry just six F-35Bs in addition to helicopters.
"Any time that you look at unique ways of being able to execute missions, there is value there," says Stone, who has led Task Force 76/3 since mid-June.
"We have a range of options at our disposal for performing missions, so yes we are continuing to look at the lightning carrier-type concept."
He adds, however, that "lightning carrier" is not an immediate priority for the task force, but something that could be explored in the future.
"I think there is promise there, but it's not something that I've spent a lot of effort on in the relatively short time I've been in this job."