The US Navy (USN) has taken delivery of its first Boeing E-6B Mercury command and control aircraft with upgrades to a new Block II standard.
The navy accepted the updated aircraft in Lake Charles, Louisiana, where Northrop Grumman conducted the upgrade work over the previous 12 months, says Naval Air Systems Command (NAVAIR).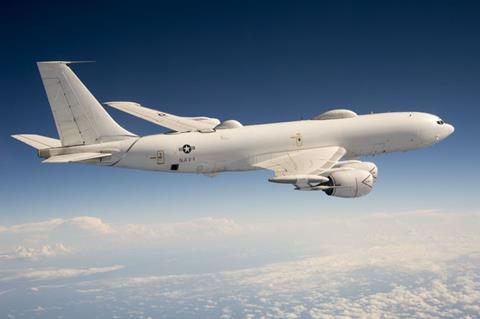 The work was conducted under Northrop's $111 million Integrated Maintenance and Modification Contract (IMMC) with the navy, which will see "multiple" E-6B Mercury aircraft overhauled by 2027.
Although upgrade work for the first asset took one year, Northrop aims to eventually reduce this to six months over the course of the programme.
"Working with the navy, Northrop Grumman is getting closer to the contract's required turnaround time of six months by implementing process improvements that span engineering, scheduling, management and production," says NAVAIR.
"This is the first time a single company is responsible for the entire installation, reducing bureaucracy and improving speed."
Block II upgrades improve the aircraft's command, control, and communications functions. A primary mission of the E-6B is allowing US political leadership to communicate with USN ballistic missile submarines during crises. The aircraft is also referred to as TACAMO, for 'Take Charge and Move Out'.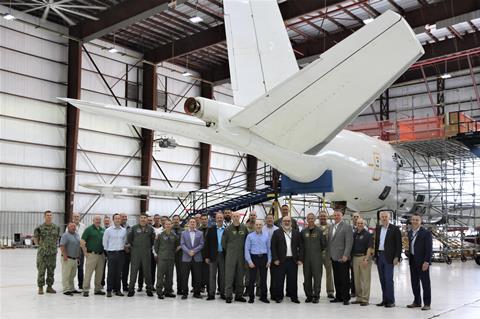 "The delivery of the first IMMC aircraft is a monumental achievement," says Bob Stailey, the E-6B deputy programme manager for the Airborne Strategic Command, Control, and Communications Program Office (PMA-271), which awarded and manages the maintenance contract.
"We are delivering enhanced capabilities to the fleet quicker and ensuring they have the tools to successfully execute this critical mission for years to come."
The jet, derived from the 707 airliner, has already flown to Tinker Air Force Base, Oklahoma. Tinker is home to Navy Fleet Air Reconnaissance Squadrons 3 and 4, which operate the E-6B as part of the Strategic Communications Wing One.
A second E-6B is already undergoing the Block II upgrade process at Lake Charles.
Cirium fleets data suggests that the USN operates 16 E-6Bs, each powered by four CFM International CFM56 engines. The average age of the fleet is 33.8 years.