The US Navy (USN) is set to commence testing with an upgraded version of the Northrop F-5N fighter, setting the stage for the block upgrade of 22 former Swiss air force F-5E/Fs, which will serve in the aggressor role.
The USN's Specialized and Prove Aircraft programme office – PMA-226 – performed the upgrade work on the F-5N, modernising the cockpit and avionics, as well as improving the safety of the legacy platform, says the US Naval Air Systems Command (NAVAIR).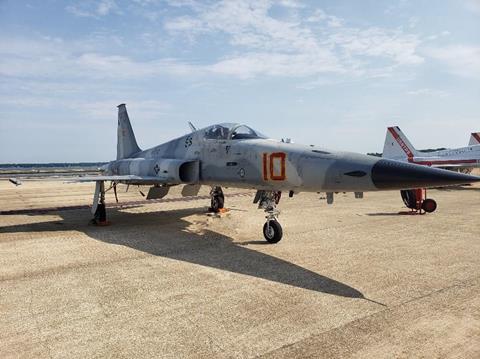 The aircraft is one of three F-5Ns to undergo the upgrade work, and is set to begin ground and flight testing at NAS Patuxent River, Maryland.
"The F-5 aircraft, performing for many years as a high altitude, high speed tactical fighter used by the navy and [US] Marine Corps as an adversary aggressor, lacks modern safety systems, avionics, and common tactical capabilities found in modern aircraft," says NAVAIR.
Following successful completion of tests on the three F-5Ns, the upgrade will be applied to 16 F-15Es and six F-5Fs that USN "recently acquired" from Switzerland.
Upon receiving the upgrades, the aircraft will be designated F-5N+/E+/F+.
"Constructive collaboration with our partners, the fleet, and the PMA-226 team drove mission success despite the technical, schedule and management challenges of integrating 21st century technology into a 1970's airframe during the pandemic," says Boyd Forsythe, PMA-226 adversary team lead.
New instrumentation will provide air-to-ground warning, severe weather protection, and fuel level warnings, in addition to improving training capabilities.
NAVAIR notes that the upgrade relies on "off the shelf components with well-defined maintenance and support equipment requirements for the block upgrade prototype-configured aircraft."
"This programme will provide modernised aircraft with exceptional avionics and tactical capabilities which are needed to allow pilots to practice the tactics and techniques employed against a near-peer threat," says Captain Ramiro Flores, PMA-226 programme manager.
"Delivery of these improvements will ensure realistic and relevant tactical training the pilots need to win in combat."
PMA-226 is tasked with managing several legacy aircraft and engine types.