US President Joe Biden has selected the livery of the "Next Air Force One", the new Boeing VC-25B aircraft designated for presidential travel that is currently under construction, formally rejecting the colour scheme that had been chosen by his predecessor, Donald Trump.
The new livery largely resembles the paint scheme of the current aircraft, the US Air Force (USAF) said on 10 March.
"While accounting for the VC-25B's larger 747-8I aircraft, the VC-25B livery has three primary differences with the VC-25A's livery," the USAF says. "The light blue on VC-25B is a slightly deeper, more modern tone than VC-25A's robin's egg blue. Additionally, the VC-25B engines will use the darker blue from the cockpit area vice the VC-25A's robin's egg blue. Finally, there is no polished metal section on the VC-25B because modern commercial aircraft skin alloys don't allow for it."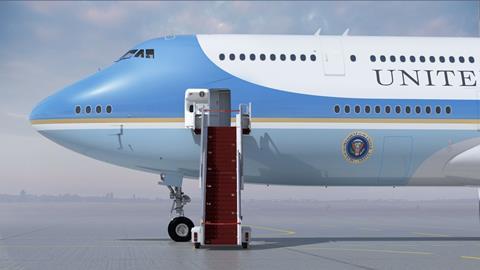 The USAF says it had previously displayed a different livery because it had been "publicly expressed as a preferred livery" in 2019.
Then-President Trump had personally selected the alternate "patriotic" colour scheme for the new aircraft, which is a modified 747-8. That design featured dark blue paint covering the engines and fuselage underbelly, with red and white accents above. It represented a departure from the long-standing-light blue-and-white paint job that has been the executive jet's signature look since the administration of President John F Kennedy in the early 1960s.
Trump himself had been actively involved in both contract negotiations and aesthetic design for jet, repeatedly tweeting and speaking publicly about the programme – at times airing dissatisfaction with Boeing. The USAF had awarded the US airframer the $3.9 billion contract in 2018.
But that scheme would have caused further delays to the programme, and further driven up the cost, the USAF now says.
"A thermal study… concluded the dark blue in the design would require additional Federal Aviation Administration qualification testing for several commercial components due to the added heat in certain environments."
The VC-25B aircraft will replace the current fleet of VC-25As, "which faces capability gaps, rising maintenance costs, and parts obsolescence", the air force adds.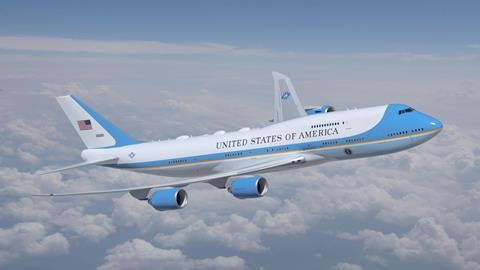 "Modifications to the aircraft will include electrical power upgrades, a mission communication system, a medical facility, an executive interior, a self-defense system, and autonomous ground operations capabilities," the USAF says. "The aircraft will be uniquely modified to provide the [president], staff, and guests with safe and reliable air transportation with the equivalent level of communications capability and security available in the White House."
Deliveries of the two new aircraft are scheduled for 2027 and 2028.
In January, Boeing delivered the finial civilian 747-8 to Atlas Air Worldwide, sunsetting the programme after more than 50 years.