The US Department of Defense has ruled out transferring 23 Polish MiG-29 fighter jets to Ukraine, calling the idea "high-risk" and fearing it could raise tensions in the region.
Speaking at a media conference on 9 March, Pentagon spokesman John Kirby says such a transfer "may be mistaken as escalatory and could result in significant Russian reaction that might increase the prospects of a military escalation with NATO".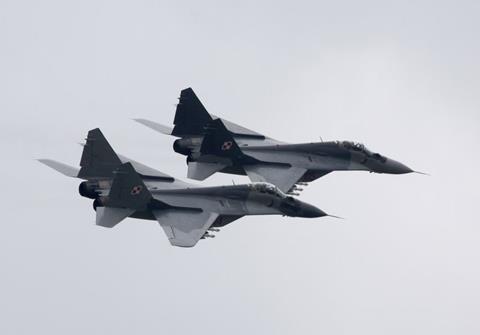 "We don't believe additional aircraft is the most effective answer to meeting those needs in the conflict," he says "Sovereign nations can decide for themselves what they want to do, but this idea – the proposal of transferring jets to our custody and then transferring them to Ukraine – is something we are not going to explore right now."
The back-and-forth on the jets began on 6 March when US secretary of state Antony Blinken said the USA was in active discussions with Poland related to the transfer of combat aircraft to support Ukraine's beleaguered air force. At that time, reports suggested Poland would receive Lockheed Martin F-16s from the US Air Force inventory to replace aircraft transferred to Kyiv.
Two days later, Poland publicly offered its MiG-29 jets to the USA, presumably for ultimate delivery to Ukraine. The idea was for Poland to deliver the jets to Ramstein air base in Germany, where the USA could then transfer the jets to Ukraine armed forces.
Poland also suggested that other NATO allies who operate the type – Slovakia, Croatia and Bulgaria – should do the same.
The US government was taken aback by the offer, with White House press secretary Jen Psaki earlier in the day admitting the Biden administration was "not made aware of their plans to make that announcement".