The US Air Force, UK Royal Air Force (RAF) and Royal Australian Air Force (RAAF) have committed to working together for the development of the Boeing E-7A Wedgetail airborne early warning and control (AEW&C) aircraft.
The pact was signed on 14 July by the heads of the three air forces at the Royal International Air Tattoo (RIAT) held at RAF Fairford in the UK.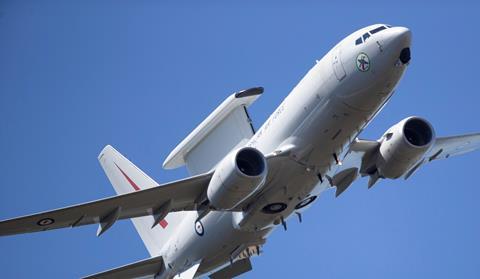 It commits the three to cooperating in areas such as capability development, evaluation and testing, interoperability, sustainment, operations, training, and safety.
Of the three, only the RAAF has experience operating the E-7A, a derivative of the 737-700 airliner equipped with Northrop Grumman's Multi-role Electronically Scanned Array radar. The RAAF operates six examples and awarded the E-7A final operational clearance in 2015.
The RAF is in the process of acquiring three E-7As. In late 2022 it emerged that the delivery of the first example would slip to 2024, from 2023. Speaking to FlightGlobal at RIAT, Dan Gillian, Boeing Defense, Space & Security vice-president and general manager mobility, surveillance and bombers, said the first of the UK's aircraft is on track for delivery "towards the end of next year".
All three of the RAF's aircraft are undergoing conversion to the Wedgetail standard with STS Aviation Services in Birmingham, the UK.
The USAF aims to obtain 26 E-7As by 2032, with production to start in 2025 and the first example to be fielded by 2027.
The E-7A will replace the obsolescent Boeing E-3 Sentry in both air forces. The RAF's last E-3Ds left service in 2021. The USAF still operates the E-3C, but generals have expressed reservations about the type's effectiveness against advanced threats, specifically China's increasingly capable air force. Sustainment of the aged type is also a major challenge.
"The signing of this joint vision statement by our three air forces is an exciting opportunity that will allow us to work collaboratively to develop our Wedgetail fleets to ensure that they remain ready to provide airborne early warning and control as the threats and challenges we face change," says RAF chief of the air staff Air Chief Marshal Sir Rich Knighton.
Historically, the three air forces have had a close relationship, and already have initiatives related to the Wedgetail.
In December 2022, Australia and the USA announced that USAF personnel would be dispatched to Australia to work with RAAF Wedgetail crews. Around 40 personnel are understood to currently be deployed.
Canberra recently announced that a single E-7A will be dispatched for a six-month deployment in Germany, along with 100 crew and support personnel. The stated mission of the aircraft will be to monitor a region through which humanitarian and military assistance flows to Ukraine.
The deployment is also likely to give Canberra's allies an opportunity to assess the E-7A's capabilities in a dynamic environment.
Additional reporting by Craig Hoyle