US officials have approved the possible sale of six Sikorsky MH-60R Seahawk maritime helicopters and related equipment to Norway.
Valued at up to $1 billion, the potential deal through the USA's Foreign Military Sales process includes equipment, training and logistics support.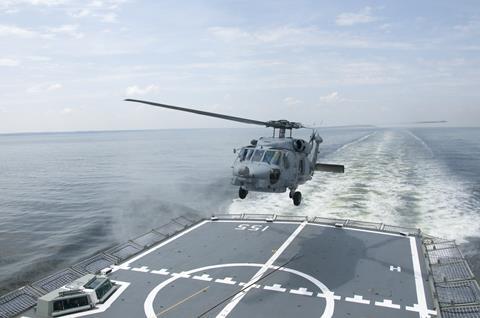 Notifying Congress of its approval, the US Defence Security Cooperation Agency (DSCA) says the proposed sale will "improve Norway's capability to perform coastguard missions along with the ability to perform secondary missions, including vertical replenishment and communications relay".
In March, Oslo outlined its intention to purchase the six MH-60Rs as a partial replacement for its NH Industries NH90 fleet.
The Seahawks could begin arriving in 2025, provided the order can be finalised with the USA this summer. Approval is also needed from the Norwegian parliament.
Norway last June announced it was giving up on the NH90 having endured years of delivery delays and poor availability rates. Its 13-strong fleet was pulled from service at that time.
Oslo originally ordered 14 NH90s – eight for costguard-support operations and six for anti-submarine warfare missions. It has yet to decide how to replace the latter capability.
Separately, the DSCA says the US Department of State has also approved the possible sale of continued sustainment and support services, running until 2028, for the Royal Norwegian Air Force's four Lockheed Martin C-130J tactical transports for an estimated cost of $166 million.

Dominic Perry is deputy editor of Flight International but also contributes extensively to flightglobal.com. Although specialising in the coverage of the helicopter industry, he has written on most topics in aerospace – be they commercial, defence or business aviation. In addition, there has been an increasing focus on the decarbonisation of the industry and zero-emission flight initiatives.
View full Profile