The US government has cleared a possible $122 million deal to provide Australia with Large Aircraft Infrared Countermeasures (LAIRCM) systems.
The deal includes 27 Northrop Grumman AAQ 24(V)N LAIRCM systems related to upgrade work on Canberra's Airbus Defence & Space A330 multi-role tanker transports (designated KC-30 in Australia), Boeing C-17s, and Lockheed Martin C-130Js, the US Defense Security Cooperation Agency (DSCA) says.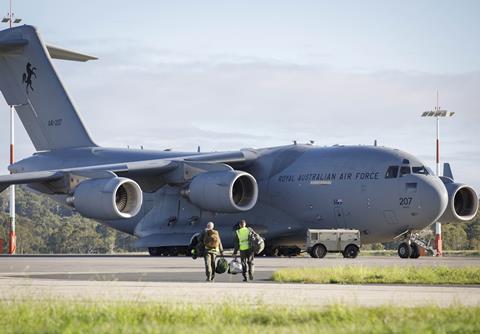 A range of other equipment and services are included in the package.
"This proposed sale will support the foreign policy and national security objectives of the United States," says the DSCA.
"Australia is one of our most important allies in the Western Pacific. The strategic location of this political and economic power contributes significantly to ensuring peace and economic stability in the region. It is vital to the US national interest to assist our ally in developing and maintaining a strong and ready self-defence capability."
Cirium fleets data indicates that the Royal Australian Air Force operates seven KC-30s, eight C-17s, and 12 C-130Js.