The US government has cleared the sale of Infrared Search and Track (IRST) sensors to Taiwan for use aboard the country's fleet of Lockheed Martin F-16s.
In a notification to the US Congress, the Defense Security Cooperation Agency (DSCA) gives the value of the potential sale as $500 million but does not disclose the number of IRST sensors to be provided.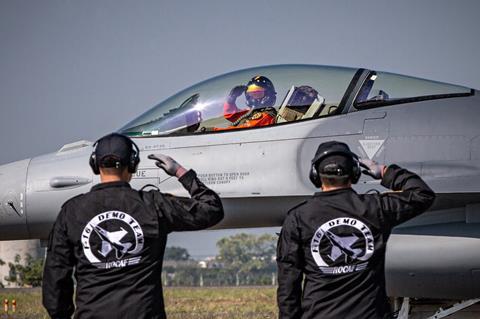 In addition to the sensors themselves, the package includes spares, support, and training, as well as other equipment and services.
"This proposed sale serves US national, economic, and security interests by supporting the recipient's continuing efforts to modernise its armed forces and to maintain a credible defensive capability," says the DSCA.
"The proposed sale will help improve the security of the recipient and assist in maintaining political stability, military balance, and economic progress in the region."
Should the deal move forward, Lockheed will be the prime contractor.
While the DSCA did not name a specific IRST system, Lockheed has promoted a chin-mounted IRST pod for the F-16. The company also offers the IRST21, a podded sensor that can be used by fighters such as the Boeing F-15C and F-16.
In addition, the company provides an IRST capability in the form of its Legion Pod.
Taiwan is in the process of upgrading 140 F-16s to the F-16V standard, which incorporates a new active electronically scanned array (AESA) radar.
It is also set to receive 66 new F-16Vs from Lockheed's Greenville, South Carolina factory, but these deliveries have suffered delays. Media reports from Taiwan suggest new F-16Vs will only arrive in the third quarter of 2024.