The US government is in active discussions with Poland related to the transfer of combat aircraft to Ukraine's beleaguered air force, but continues to rule out a Ukrainian no-fly zone.
In media comments during a European visit, US Secretary of State Anthony Blinken says the transfer of aircraft would help Kyiv replace combat losses incurred during Russia's invasion.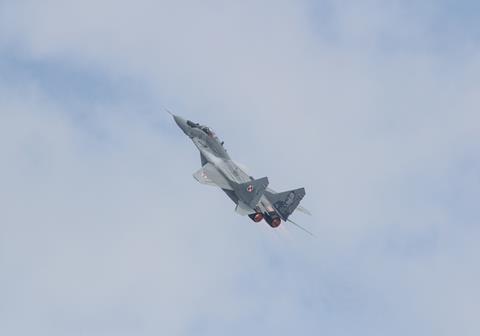 "So we are working with Poland as we speak to see if we can backfill anything that they provide to the Ukrainians," said Blinken in an interview with CNN.
"We very much support them, providing MiGs, Sus [Sukhois], planes that Ukrainians can fly, to the Ukrainians. But we also want to see if we can be helpful in making sure that whatever they provide to the Ukrainians, something goes to them to make up for any gap in the security for Poland that might result. We're actively talking about that right now."
In an interview with NBC, Blinken stressed that any transfer of aircraft to Ukraine is purely a "sovereign decision" on the part of Poland.
While used Polish aircraft would certainly be welcome to Kyiv, Cirium fleets data suggests only limited numbers of airframes could be quickly transferred.
It shows that Poland operates 29 RAC MiG-29s with an average age of 32.7 years. Of these, 23 have a primary air defence mission, while three are MiG-29UB trainers with a secondary air defence role. The remaining three in-service MiG-29UBs are used exclusively for training.
Poland operates 32 Sukhoi Su-22s in the ground attack mission, with an average age of 35 years.
Ukraine operates MiG-29s, with Cirium fleets data showing it as also operating Su-24s, Su-25s and Su-27s.
Polish air combat fleet
Manufacturer
Type
Aircraft Sub Series
Total In Service
Average Age
Lockheed Martin
F-16
F-16C
36
14.3
UAC (MiG)
MiG-29
MIG-29UB (9.51)
3*
32.5
UAC (MiG)
MiG-29
MiG-29 (9.12A)
23
32.6
UAC (Sukhoi)
Su-22
Su-22M-4
26
34.6
UAC (Sukhoi)
Su-22
Su-22UM-3K
6
37
All Aircraft
94
26.4
*Excludes three MiG-29UBs used exclusively for training
Source: Cirium fleets data
Reports suggest that Poland would receive Lockheed Martin F-16s from the US Air Force inventory to replace any aircraft transferred to Kyiv.
One question about any transfer of aircraft would be basing, with Ukraine's air bases likely under increasing pressure from Russian strikes. Allowing Ukraine's air force to operate from a "sanctuary" in Poland or other neighbouring countries might be seen as escalatory.
On the question of avoiding escalation, the US government continues to rule out the imposition of a no-fly zone over Ukrainian air space.
"The [US] President's been very clear about one thing all along as well, which is we're not going to put the United States in direct conflict with Russia, not have American planes flying against Russian planes or our soldiers on the ground in Ukraine, because for everything we're doing for Ukraine, the president also has a responsibility to not get us into a direct conflict, a direct war, with Russia, a nuclear power, and risk a war that expands even beyond Ukraine to Europe," says Blinken.
"That's clearly not our interest. What we're trying to do is end this war in Ukraine, not start a larger one."