The US Air Force (USAF) has awarded Northrop Grumman a $108 million contract to procure long lead items for production of the B-21 Raider stealth bomber.
The long lead items will support the first production lot of B-21s, says the USAF.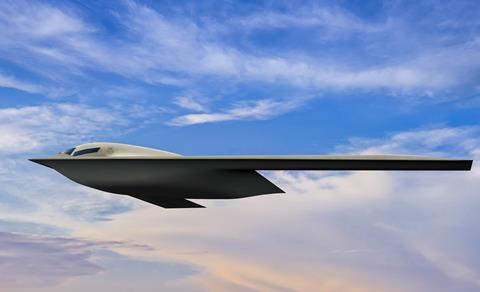 "The B-21 Raider program is foundational to the Air Force's operational impertative for an effective, long-range strike family of systems to guarantee our ability to strike any target, anytime, anywhere, even in the most contested environment," says US Air Force Chief of Staff General Charles Brown.
"The quality of the aircraft build, coupled with its open systems architecture design and built-in margin for future growth, will provide our warfighters the competitive advantage we'll need to deter current and future conflicts, and fight and win if called upon to do so."
B-21 test aircraft are being produced under an engineering and manufacturing development contract, using the same production line that will eventually produce production examples.
The USAF adds that the first B-21 test aircraft is undergoing loads calibration work to verify and validate its structural design prior to flight. Once this is done, there will be additional integration work and testing pending flight readiness.
The 420th Flight Test Squadron based at Edwards AFB in California is tasked with planning for testing, analysing and reporting on all flight and ground testing for the aircraft, which is being built by Northrop in Palmdale, California.
The B-21 will ultimately replace the Boeing B-1B Lancer as well as the Northrop B-2. The USAF envisages having a bomber fleet comprised entirely of B-21s and extensively-modernised Boeing B-52s.