Lockheed Martin F-35As operated by the US Air Force (USAF) have performed a long-range sortie from North America to Japan simulating a combat mission.
The work saw four F-35As of the 355th Fighter Squadron launch from Eilson AFB in Alaska and fly 10h to Japan, where they joined up to perform an exercise with other USAF F-35As launched from Japan's Kadena and Iwakuni bases.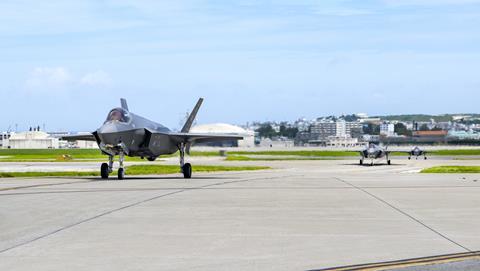 "This is the first time F-35As have flown directly from a home base in North America into the first island chain to participate in a tactical training mission," says USAF Lieutenant Colonel Michael Mickus.
"This flight demonstrates the USAF's ability to deploy fighter aircraft from Alaska directly into potential combat operations in a highly relevant part of the world."
The "first island chain" encompasses the countries of Japan, Taiwan, the Philippines, and Indonesia. Should a conflict break out with China the region is likely to be hotly contested.
The four F-35As flew with a trio of Boeing KC-135 tankers that refuelled the fighters 13 times. Following the exercise, the four fighters landed at Kadina.
One of the F-35A pilots said that this was the longest mission she has performed during her air force career.
The mission fell under the auspices of Northern Edge 23-2, a training exercise occurring in various parts of the Pacific during the month of July.
The long-range F-35A mission followed the first deployment of USAF B-52H bombers to Indonesia.
The deployment involved 60 airmen and a pair of B-52Hs from the 5th bomb wing operating from Indonesia – a first for the bomber type.
The Indonesian deployment focused on interoperability between the Indonesian air force and USAF.
"Enhancing interoperability between US and Indonesian air forces contributes to the long-term advancement of our nations' shared interests," says USAF Captain Justin Kinker.
"This was a great opportunity for us to train alongside our partners to bolster our collective ability to support a free and open Indo-Pacific."