The US Air Force (USAF) has lost two stealth fighters in one week during operations from Eglin AFB, Florida.
The separate crashes involved a Lockheed Martin F-35A and an F-22, according to the service.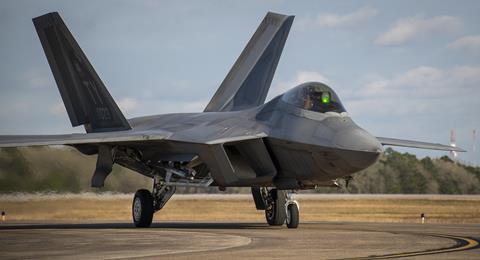 The F-35A crashed while landing at night on 19 May, while the F-22 was lost on 15 May during a training mission. In both instances the pilots ejected safely.
Eglin AFB adds that the cause of the accidents will be investigated.
Cirium fleets data indicates that prior to the F-22 crash, the USAF had 185 examples in service. Since the F-22's service entry, the service has had to write off four examples of the type, which is no longer in production.
Prior to the 19 May Eglin crash the F-35 had suffered two losses. The first occurred in September 2018 when a US Marine Corps F-35B crashed in South Carolina. The pilot safely ejected.
The F-35's second crash involved an F-35A operated by the Japan Air Self-Defence Force. The accident occurred on 9 April 2019 when the jet crashed into the sea northeast of Japan at night, killing its pilot.