The US Air Force (USAF) fleet of Lockheed Martin F-16 fighters is in the midst of major upgrade work, affecting a number of key aircraft systems.
The project applies to 608 Block 40 and Block 50 airframes, according to the Air Force Life Cycle Management Center. The aircraft will undergo 22 modifications to boost lethality and ensure the iconic type retains effectiveness against current and future threats.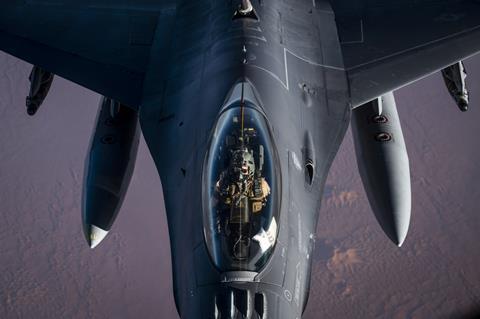 The programme is known as Post Block Integration Team (PoBIT). Modifications have already started, and will continue for some years.
The project involves six USAF commands, 18 bases, multiple companies, and contracts worth $6.3. billion.
PoBIT updates include the addition of a new active electronically scanned array (AESA) radar and Link 16 communications. The aircraft will also receive a new mission computer, modernised cockpit, improved networking capability, new electronic warfare capability, a communications suite upgrade, and a new centre display unit.
"This is a pretty massive effort, a collision of mods as we call it," says Oryan Joseph, programme manager with the directorate's F-16 Program Office.
"We had to quickly look at all of the [modifications] that are going on the aircraft and not only understand the timing of when the mods are going to deliver, but also when the aircraft will be available from the units. There are a lot of variables, a give and take tug of war that we deal with every day on bringing down aircraft [for modifications] at the right time."
Though the USAF does not state it, the work resembles F-16 upgrade programmes taking place with Asia-Pacific allies such as Singapore, South Korea, and Taiwan. This work sees a range of updates, including the addition of the Northrop Grumman-supplied AESA set – the APG-83 Scalable Agile Beam Radar. This takes the jets to the Block 70 – or F-16V – standard.
"This effort is a big deal for the [US] Air Force," adds Joseph. "In order for us to keep the F-16 in the fight performing all its different roles for our combatant commanders, we must significantly modernise the fleet."
Cirium fleets data shows that the USAF has 940 F-16C/Ds in its inventory, with an average age of 31.2 years. In addition, it has 57 QF-16 drones, as well as a single X-62A Vista – a heavily modified F-16D used for flight test work.
Globally, Cirium shows 2,920 in-service F-16s.