The US Air Force (USAF) has re-designated its Lockheed Martin NF-16D Vista as the X-62A, reflecting an upgrade programme that will see the aircraft support autonomous flight work.
One part of the work involves the upgrade of the jet's Vista Simulation System (VSS), which allows it to simulate a broad array of other aircraft types.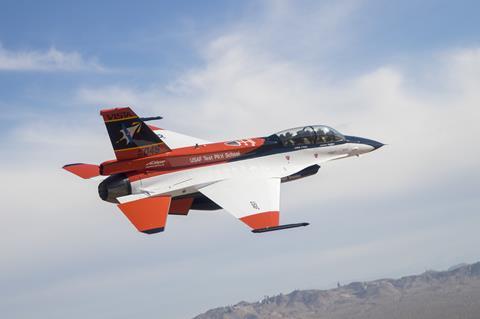 "For more than two decades VISTA has been a vital asset for the USAF TPS (Test Pilot School) and the embodiment of our goal to be part of the cutting edge of flight test and aerospace technology," says William Gray, VISTA and TPS chief test pilot.
"It has given almost a thousand students and staff members the opportunity to practice testing aircraft with dangerously poor flying qualities, and to execute risk-reduction flight test programs for advanced technologies."
In addition to replacing VSS, the upgrade also involves the addition of SACS, or System for Autonomous Control of Simulation. This will support autonomy work related to Skyborg, an effort to develop a capability to operate teams of low-cost, autonomous aircraft.
The USAF explains that the 'N' designation denotes an aircraft that has seen such extensive changes that it is impractical to return it to the baseline.
The 'X' designation denotes an aircraft used for testing configurations of a radical nature.
"The re-designation [to X-62A] reflects the research done on the aircraft over the past almost 30 years, as well as acknowledges the major upgrade programme that is ongoing to support future USAF autonomy testing," says Chris Cotting, USAF TPS director of research.
"We have found ways to use VISTA that were not envisioned by the original designers, so we were running into frustrating limitations. The modifications will address these limitations and profoundly improve our ability to quickly and safely test an almost unlimited variety of radical control law configurations. Even so, the X-62A will continue to serve as a curriculum aircraft, and will be an even brighter symbol of our aspirations."