Warsaw has signed an export agreement with Korea Aerospace Industries (KAI) related to its July order for 48 FA-50PL training and combat jets.
The contract, signed on 16 September, places the value of the deal at $3 billion, according to South Korea's Defense Acquisition Program Administration (DAPA).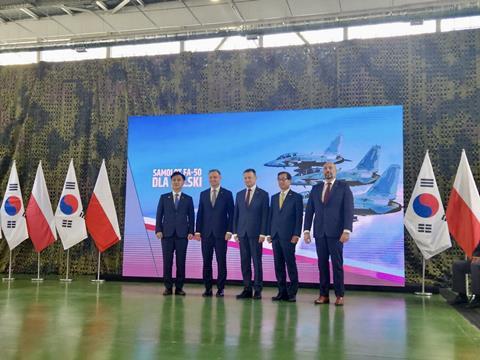 "The signing of the FA-50 implementation contract is the result of the excellent international competitiveness of our weapon system, the strong defence export drive of the Yoon Seok-yeol government, and the multifaceted negotiation efforts of domestic defence companies," says DAPA on its Facebook page.
In addition to supplying the aircraft, the agreement covers the establishment of an MRO centre to support the jets, as well as a flight training school.
The jets will replace Poland's RAC MiG-29s and Sukhoi Su-22s. Poland's ageing Soviet fleet suffers from sustainment issues, with spare parts from Russia being a particular challenge.
The FA-50PLs are just one element of recent Polish buys of South Korean equipment, with Warsaw also obtaining K2 tanks and K9 howitzers.
The first FA-50PLs will arrive in mid-2023 in a Block 10 configuration, while the balance will arrive in 2025 in a Block 20 configuration. Block 20 jets will have an active electronically scanned array radar, Lockheed Martin Sniper targeting pod, Link 16 datalink, and will be armed with Raytheon AIM-9X Sidewinder air-to-air missiles.
The AIM-120 AMRAAM (Advanced Medium Range Air-to-Air Missile) is also a candidate to arm the jets.
Shortly before the Polish deal was signed in late July, Lee Bong Keun, vice-president and general manager of KAI's international business division, told FlightGlobal that the company aims to sell 1,000 FA-50s over the coming decade.
This number includes requirements from the US Air Force and US Navy for additional training aircraft, as well as the need for "red air" aircraft to serve in aggressor training missions.
Lee also felt that Russia's isolation following its invasion of Ukraine would result in countries look to replace old Russian aircraft with alternatives such as the FA-50.