The static display of this year's Airshow China has offered new insights into key Chinese platforms such as the Xian H-6K bomber and the Y-20U tanker.
The show is being held at Zhuhai not far from the former Portuguese colony of Macau, and will run from 8-13 November.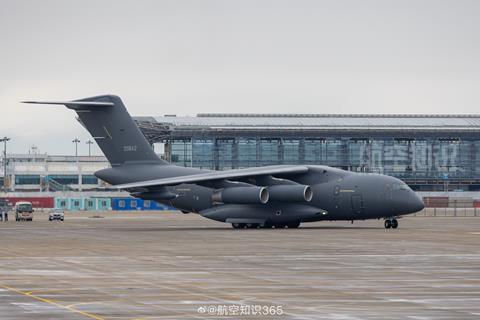 As the show's static display takes shape, images on Chinese social media have offered some new glimpses into key Chinese fixed wing assets.
Most prominently, the H-6K has been photographed at the show with what appear to be ballistic missiles under each wing.
It is understood that China has been developing a ballistic missile capability for the H-6 strategic bomber, but the focus has been on the H-6N, which has a large cavity under its fuselage to accommodate a large missile. In October 2020, a video of an H-6N carrying a ballistic missile was filmed landing at an airbase somewhere in China.
Unlike the more advanced H-6N, the H-6K lacks a probe for air-to-air refuelling. Nonetheless, the ability to loft long-range ballistic missiles would allow it to operate relatively close to base in the event of a conflict.
It is understood that Beijing sees great potential for ballistic missiles to attack both stationery targets and warships.
Also making an appearance at this year's show is the Y-20U tanker. A lack of tankers is seen as a key weakness for the People's Liberation Army Air Force (PLAAF). The Y-20U, which is based on the Y-20 strategic transport, is Beijing's solution to this challenge.
The Y-20U has three refuelling points: two wing-tip hose and drogue pods likely for refuelling tactical assets such as fighters, and a centreline hose station likely intended for refuelling larger types, such as the H-6N.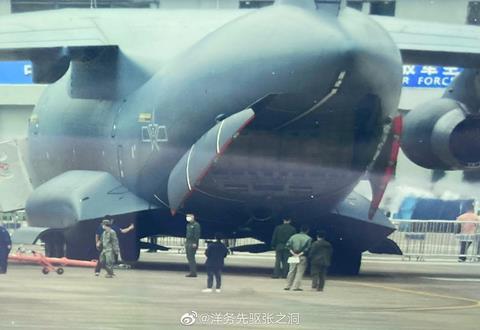 Notably, the Y-20U at Zhuhai has been photographed opening its rear cargo door, suggesting the retention of a secondary transport capability.
Additionally, a Shaanxi KJ-500 airborne early warning & control aircraft equipped with a refuelling probe has been spotted at the show. Based on the Y-9 tactical transport – a type roughly analogous to the Lockheed Martin C-130 - the KJ-500 is the PLAAF's premier AEW&C asset.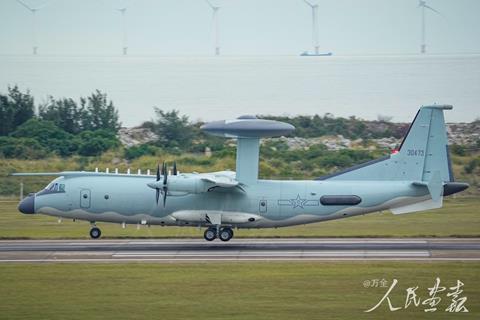 The KJ-500's radome does not rotate, but rather houses a fixed active electronically scanned array radar.
Zhuhai, traditionally held during even-numbered years, last took place in November 2021. This year's show, as last year's, is likely to be sparsely attended by foreign visitors owing to China's 'zero-Covid' policy, which makes it extremely difficult to visit the country.