Airbus has created a separate legal entity to lead the development of its CityAirbus NextGen electric vertical take-off and landing vehicle, the airframer has disclosed, and has also revealed the first suppliers to join the effort.
Balkiz Sarihan, head of UAM strategy execution and partnerships, says that although expertise for the programme will be drawn from different parts of the group, work will be directed by Airbus Urban Mobility.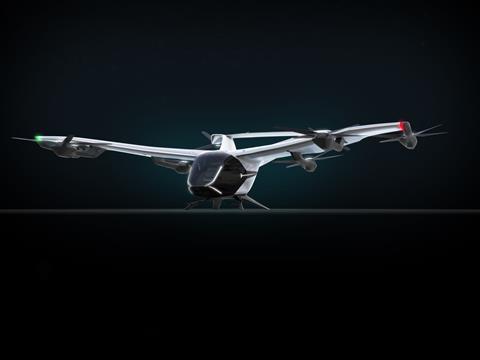 Its headquarters will be in Munich, while engineering activities will be conducted at the Airbus Helicopters site in nearby Donauworth, which will also assemble the initial prototype.
Equipped with eight fixed propellers and battery-powered electric motors, the winged CityAirbus NextGen will accommodate three passengers and one pilot.
Sarihan says the batteries will be both suitable for fast charging and swappable "to optimise any kind of operational requirement".
"Operational" range for the CityAirbus NextGen will be 43nm (80km) with a cruise speed of 67kt (125km/h), enabling the aircraft to "address 95% of all urban missions", Sarihan said during a Dubai air show briefing on 15 November.
But the aircraft's range and its three-passenger capacity appear to put Airbus at a disadvantage compared with sector rivals like Joby Aviation and Vertical Aerospace, whose vehicles will be able to carry four passengers and one pilot on trips of over 100nm.
However, Sarihan defends the performance figures, describing them as a "very reasonable starting point".
The design of the CityAirbus NextGen is also scalable, she says. "It's designed to grow – that is why we have chosen the wing design and distributed propulsion."
In addition, Sarihan does not see the "first marketing openings" for the aircraft as including air taxi operations. Instead, the company is targeting "emergency services, tourism and shuttle services" which will reach places "where infrastructure does not exist".
Programme partnerships will be revealed in the coming weeks and Sarihan says that "airlines are absolutely part of the equation".
Although technological maturation will be key to the programme's development, Sarihan stresses that "without public and social acceptance this service will never fulfil its role in society".
While several group companies are involved in the programme – Airbus Helicopters will make the propellers at its Le Bourget site, and Airbus Defence & Space is supplying the batteries – the airframer is also building up external partnerships.
First to join the CityAirbus NextGen team are Diehl Aerospace and Thales, who will jointly develop the aircraft's flight-control computers.
Thales is responsible for the primary computing system, while Diehl is working on the secondary flight-control computer. Those developments are being funded by the French and German governments.
Diehl Aerospace is a joint venture between Thales and Diehl Aviation.
First flight is scheduled for 2023, with certification in the 2025 timeframe.