ATR is to re-engine its 42- and 72-600 twin-turboprops with a new update of the PW127 powerplant and has secured long-term operator Air Corsica as launch customer with an order for five aircraft.
To enter service from the final quarter of 2022, the PW127XT-M will be standard equipment on all new ATRs, and also available as a retrofit on older -500 and -600 aircraft.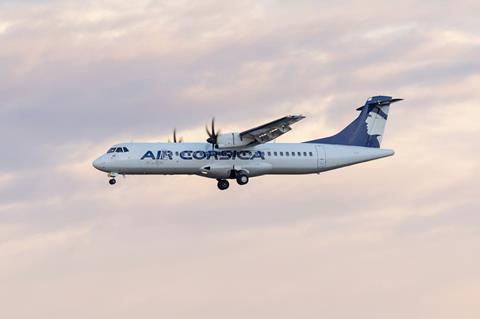 Promising a 3% reduction in specific fuel burn, time on wing extended by 40% and maintenance costs reduced by 20%, the PW127XT is also capable of running on blends of up to 50% sustainable aviation fuel, with a goal to reach 100%.
"We are bringing customers what they want," says Stefano Bortoli, ATR chief executive, citing the affordability and improved operating economics of the new engine.
He says that while ATR and its shareholders Airbus and Leonardo continue to evaluate future propulsion options, these are still years away. "We are doing something today – we cannot wait for the big bang. We are trying to bring immediate advantages in several dimensions."
P&WC has been flying the engine for some time, says company president Maria Della Posta, and expects certification in the second quarter of next year.
"It is not technology for technology's sake but to really go after what this customer base needs," she says.
Although the improvement in fuel consumption is modest, she notes that the performance of the PW100-series engine has improved by 30% over the life of the programme.
Retrofit engines will be available around a year after the start of series production, Della Posta says, and no price for the upgrade has so far been disclosed. Nonetheless P&WC is "expecting many to go that route in time".
Producing the same 2,750shp (2,050kW) output as the current PW127M, the XT features an increased capacity low-pressure compressor, a new high-pressure turbine module, enhanced efficiency power turbine module, and a new gas-generator case with an improved oil distribution system.
At present, two versions of the XT are in P&WC's plans, the –M and –N; while both have the same mechanical power rating, the latter has a higher thermodynamic power at 3,511shp versus 3,360shp.
The XT-N is designed for the ATR 72-600 and allows the aircraft to maximise take-off weight in hot and high environments.
Customers for the XT-M can also upgrade to the N variant through minor hardware modifications, says P&WC.
Marie-Helene Casanova-Servas says the environmental performance of the ATR 72-600 was an important consideration in its selection as the carrier modernises its fleet.
Cirium fleets data records Air Corsica as operating five ATR 72-500s and a single 42-500.