Bell is open to moving production of certain of its current military helicopters to customer countries should its V-280 Valor be selected to replace the US Army's fleet of Sikorsky UH-60 Black Hawks.
A decision on the Future Long Range Assault Aircraft (FLRAA) competition – where the V-280 faces competition from the Sikorsky-Boeing Defiant X – is expected in 2022.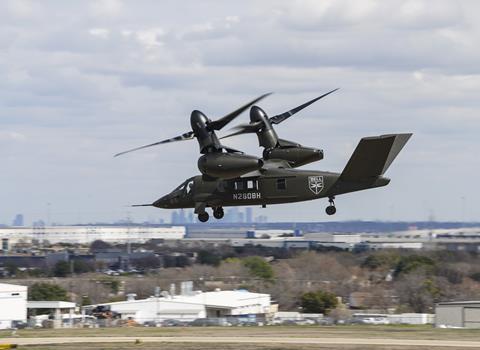 But for the winning company the quantities involved will be huge: Cirium fleets data records 2,262 UH-60s operated by the US Army alone, with another 204 on order. "We are talking about a lot of aircraft," says Steve Mathias, vice-president global military sales and strategy at Bell.
In order to free up capacity at its domestic assembly sites, Bell could look to move production of certain models elsewhere.
Mathias points out that its H1 series – the UH-1Y Venom transport and AH-1Z Viper attack helicopter – will remain relevant until the 2040s.
"It's a capability that many nations need now and will need for the next 20 years. We need to continue to produce [those helicopters] because those countries friendly with the US need to have that capability as well."
If customers order aircraft in sufficient volumes and have the right industrial capability then "anything is possible", he says.
"Because of our expectations around production on [FLRAA] when we win that next year, we don't say no to anything until we have had a chance to talk about it."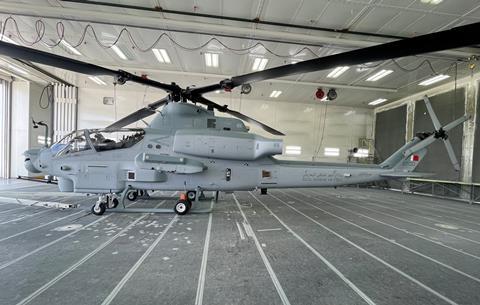 Mathias was speaking during the Dubai air show, where the company's focus was on potential customers in the Middle East for both the H1 models and the V-22 Osprey tiltrotor that Bell produces in partnership with Boeing.
To date one of only two export orders for the AH-1Z comes from Bahrain, which has a commitment for 12 units; deliveries are due to begin in 2022.
But, says Mathias, Bell is pitching the Osprey to several Middle Eastern nations: "Every country [in the region] has a need for speed and range." Both the standard military version and a VIP transport model are being promoted, he adds.
Further afield, the AH-1Z is attracting interest from Bangladesh for its army, and from Nigeria. In Europe, the Czech Republic has ordered eight UH-1Ys plus four AH-1Zs, and Mathias is hopeful of repeat business from Prague, considering the modest size of the latter fleet.
Poland and Romania also have declared their interest in acquiring new attack helicopters.
"Bell is looking for a place that has the capability to build, modernise and maintain aircraft like the AH-1Z. A few countries have that capability. Poland is one of them," Mathias adds.