Boeing insists that it is being "as transparent as we can possibly be" with its customers on the timeline of the 777X, despite the lack of precise delivery guidance.
Emirates president Tim Clark has been particularly outspoken on the lack of clarity on when the carrier might reciver its first aircraft, saying in October that Boeing seems unable "to predict when this aircraft will be delivered".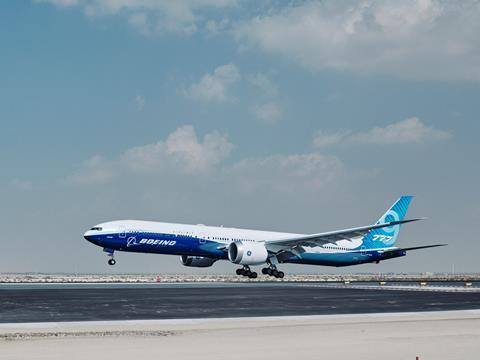 But speaking at a Dubai air show briefing on 14 November, Mike Fleming, Boeing senior vice-president for commercial derivative programmes, said the company was talking regularly to 777X customers.
"We are sharing with our customers what we are doing on the airplane and how it's working on a performance basis," he says.
"From that perspective we are trying to be as transparent as we possibly can be with our customers."
However, he points out that Boeing "does not control certification" and when the regulator requests something "we have to comply".
While customers may want a "specific delivery date", at present, Boeing can only provide a target range, says Fleming.
"We are trying to share everything we can; [customers] would like greater certainty but then we all would. But the reality is that we have to make sure that we comply with the regulator."
In addition, there is as yet no decision on which airline will receive the first aircraft in late 2023, he says.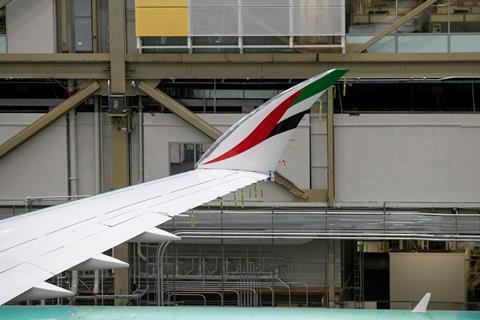 Boeing's efforts are presently focused on the 777-9 and Fleming offers no clarity on the status of the longer-range -8, simply noting that "it will follow the -9".
"When that's done we will turn to the -8," pointing out that its development will be driven by its customers and the market conditions.
Boeing continues to wait for US Federal Aviation Administration type inspection approval (TIA) on the 777-9 – a key milestone that signifies the start of the regulator's certification process.
Fleming says when the TIA will be granted is "up to the regulator" which "wants a certain level of documentation in place" before it reaches that point.
But while it waits for that point Boeing is continuing to test the aircraft in preparation for the certification flights.
"We have got time in the schedule and we are able to make good use of that," he adds.
Modifications to the flight-control system requested by the FAA are also being worked on, with the changes yet to be incorporated on the aircraft, he says.