United Aircraft (UAC) remains on course to conduct the first flight of its Sukhoi Su-75 Checkmate fighter in 2023, with early work supporting the production of prototype aircraft having commenced.
Speaking in front of a full-scale model of the fifth-generation design at the Dubai air show on 14 November, UAC director general Yuri Slyusar said that some manufacturing has begun at the company's Komsomolsk-on-Amur site.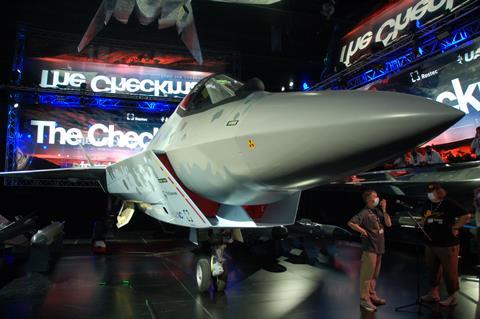 With an expected maximum speed of Mach 1.8 and boasting supercruise performance – the ability to sustain supersonic flight without the use of an afterburner – the aircraft is likely to be powered by a derivative of the NPO Saturn AL-41 engine, which powers the Russian air force's in-service Su-57.
"The essence of this project is to provide a solid product to the customer, that will be cost-efficient and attractive," Slyusar says.
He adds that UAC has been in "intensive contact" with the Russian air force since the Su-75 was unveiled at the MAKS air show in Moscow in July. "Our air force is very interested in the efficiencies of this aircraft," he says.
In addition to any potential domestic need for the Checkmate, Slyusar notes: "This aircraft is the basis for co-operation for various customer requirements", with Moscow open to entering into joint development arrangements with other nations.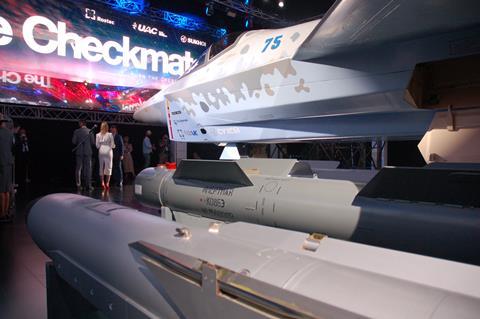 Further details of the Su-75's flight-test campaign have not been disclosed, but UAC believes that the model will be able to enter series production in 2025 or 2026.
Housed within an invitation-only pavilion at the show, the aircraft on display will be employed as a ground-test asset in support of the programme, UAC says.
The company believes the new fighter will be suitable for a wide range of applications, with further options ranging from a two-seat example to optionally-piloted and unmanned variants.
Referring to the operational Su-57, which is also on offer in an E-model export configuration, Slyusar says: "We are absolutely sure that there will be more customers."
Sukhoi has drawn on the development and combat experience gained with the stealthy Su-57 to derive technical solutions for the Checkmate, including on its airframe, avionics and weapon systems.