Emirates Airline president Tim Clark describes as a "work in progress" efforts to pin down a firm delivery date for its delayed Boeing 777-9s and braced to wait for nine months to a year before the manufacturer is able to give a definitive date amid the ongoing certification process.
"It's work in progress. We are moving on it," Clark said, asked about progress on the likely timings for the arrival of its Boeing 777-9 during a media round table at the Dubai air show.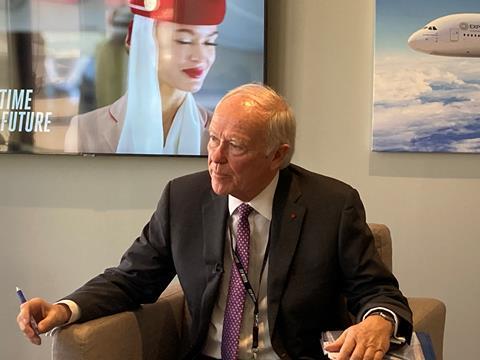 Emirates holds 115 orders for the aircraft, which it ordered at the Dubai air show in 2013 and was due for delivery last summer. Clark has been critical of a lack of clarity on when it will begin taking the aircraft. Boeing during the air show has said it is on course to start delivering aircraft by the end of 2023.
"I think we will probably watch very carefully how the process of certification goes over the next couple of years, and then we'll firm up what those deliveries positions will be," says Clark. "We are not moving away from that aeroplane at all, it's just a question of when are we going to get it. Boeing are hopeful they will get it certified in July 2023, we'll have to see how that goes. Maybe we will get more visibility in the next nine months to a year.
"We've have had discussions with them," he adds. "We've come to an agreement on what we think we ought to be doing collectively, and when we have a firmer position from Boeing, then we will start executing the things we need to do with the new aircraft programme insertion [to its fleet]."
Even if certification is achieved in the middle of 2023, Clark believes Emirates may not be able to secure the aircraft later that same year.
"If its July 2023, it's going to be very difficult for us to take aircraft in 2023, because the certification is not until July. So we will take a view at some point in the next year at what that is likely to be.
"We don't want more any torpedoes coming into the certification process," he adds. "So we've said to Boeing get it sorted, get a firm position, work the FAA… and when you are ready, and they are ready and happy, then come back to us."