Anyone watching the series of sleek private jets descending into Dubai's Al Maktoum International airport during much of this year might have wondered if the emirate had somehow managed to sidestep the Covid-19 crisis that impacted global aviation so badly.
In fact, Dubai's pandemic policy – a comprehensive testing regime and vaccine roll-out, coupled with an early reopening of the economy and lifting of travel restrictions – has helped the city to bounce back. With the delayed 2020 Dubai Expo now open and bringing more visitors in, business aviation is thriving.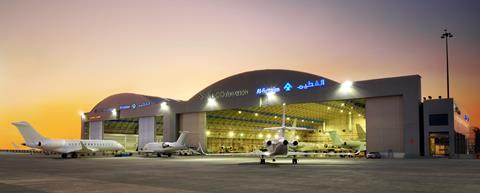 During 2021, the Gulf metropolis has once again become the leisure and investment destination of choice for many of the world's wealthy and powerful. "When things get bad elsewhere, Dubai often fares better," says Holger Ostheimer, managing director of DC Aviation Al-Futtaim (DCAF), which runs a fixed-base operation (FBO) and aircraft management business at the airport's Mohammed bin Rashid Aerospace Hub. "The real estate market in Dubai is on the up, with a lot of international individuals relocating here."
The hub – home to FBOs such as ExecuJet, Falcon Aviation, and Jetex – reported that private jet movements grew to 8,088 in the first half of this year, from 3,056 in the corresponding period in 2019 (movements in the first six months of 2020 fell to 1,811). While some of that was doubtless down to an increase in infrastructure, chief executive Tahnoon Saif believes government policy played a major part. "Dubai, given its quick recovery post-pandemic, has proved the ideal destination for tourism, living and, most importantly, conducting business," he says.
Not all areas of the sector have been doing so well. International travel restrictions meant the biennial 2020 Middle East Business Aviation Association (MEBAA) show was shelved until next year after efforts to re-stage in this February failed. Likewise, other key business aviation markets in the region, such as Saudi Arabia, have been slower to recover. Abu Dhabi too – which had a stricter and longer clamp-down than its neighbour Dubai – has still to return to 2019 levels of activity, says Rob DiCastri, chief executive of Royal Jet, the emirate's biggest charter operator.
GROUNDED FLIGHTS
After sinking to just 10% of previous levels in the second quarter of 2020, with all but a handful of medevac and diplomatic flights grounded, Royal Jet's traffic has been growing for over 12 months, says DiCastri. However, Abu Dhabi's "conservative stand" on the virus meant movements stalled at a maximum of 50% of 2019 levels until about March this year. "Since then, we've seen a climb as vaccines have rolled out and quarantine restrictions have been reduced," he says. "We're at about 80% of 2019 now, but 2019 was a fantastic year so the bar is very high."
Royal Jet is the world's biggest operator of Boeing Business Jets, with a fleet of 10 – six are owned, with four under management, and nine are available for charter. It also operates two Bombardier Global 5000s. This gives the company a very different client base to many charter providers. During the crisis, Royal Jet took the opportunity to refurbish its flagship FBO at Abu Dhabi's international airport. "We wanted a wow factor that would help us emerge from Covid better and stronger and attract more customers," says DiCastri.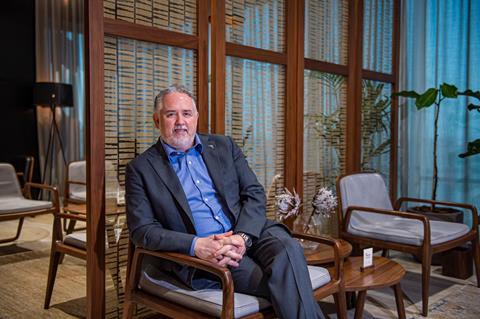 Royal Jet's core clients are Abu Dhabi's elite – a separate Presidential Flight operation handles official government flights. However, the firm has been looking to diversify by basing a BBJ in Moscow, and trying to attract more Europeans coming to the region. Last year's peace accord with Israel has also opened new links. "There is a lot of business now between Abu Dhabi and Tel Aviv," says DiCastri, who even looked at introducing a VIP shuttle between the two cities, but decided that "Etihad already does a great job with its first-class product".
Ostheimer also experienced a collapse in business when Covid-19 hit, but traffic began to improve from October last year, and "we had really good levels of activity up to July", he says. He is confident the six-month Expo, which began in October, will also boost demand for charter flights. Maintenance and aircraft storage, however, remain DCAF's main activities at Al Maktoum. The oldest tenant in the business aviation zone, having opened its site in 2013, it is licensed to work on a number of types. It has two 13,500sq m (145,000sq ft) hangars, and these are 90% full, he says.
MAINTENANCE ACTIVITY
Maintenance is the sole activity now for another occupant of the Mohammed bin Rashid Aerospace Hub, ExecuJet MRO Services Middle East. Owner Luxaviation spun off the maintenance part of ExecuJet to Dassault Aviation last year, making the French manufacturer the latest of the big four business jet manufacturers to establish an arms-length maintenance business (Gulfstream parent General Dynamics owns Jet Aviation, while Bombardier has been taking large parts of its service network in house, including the former LBAS shop in Berlin).
In September, ExecuJet MRO Services Middle East won approval from New Delhi to carry out line and heavy maintenance on a range of Indian-registered Dassault Falcons, including the 7X and 8X. With many VT-registered jets coming to Dubai regularly, "India is a key market for us," says Nick Weber, the company's regional vice-president. However, despite its ownership, ExecuJet MRO Services will remain platform agnostic. It is an Embraer-authorised service centre and also certified to carry out heavy maintenance on most Bombardier aircraft.
Business aviation has always been a major feature of the Dubai show – perhaps more so than other air shows. According to the organisers, 30% of attendees are involved in the sector. Manufacturers lined up to take part this year include Airbus, Boeing, Dassault, Embraer, Gulfstream and Pilatus, alongside several service providers such as CAE, Comlux and Gainjet. While the market tends to favour heavier metal, many Middle Eastern business jets are older than the industry average – perhaps because they fly less frequently than the typical corporate workhorses of Europe and North America.
Airbus sees this as an opportunity. "More than 60% of heavy jets and bizliners [airliner-derived types] are more than 15 years old," says Benoit Defforge, president of Airbus Corporate Jets. He believes this creates an opening for newer-generation platforms such as the ACJ TwoTwenty (based on the A220), and the ACJ350. "Both of these align well with customers' fleets from the Middle East," he says.
Traffic and confidence is on the up in Dubai and in much of the wider region. Whether this will translate to orders for Airbus and the other airframers at the show remains to be seen.