Dubai Aerospace Enterprise (DAE) will be arriving at its local air show having ridden out the Covid-19 crisis relatively unscathed, and with chief executive Firoz Tarapore anticipating strong market recovery. Its performance has been helped by the strong liquidity that comes with being a state-owned concern, a diversified portfolio that has reduced the risk of major customer defaults, and a Boeing 777F fleet – DAE is the largest lessor of the freighter – in high demand during the pandemic.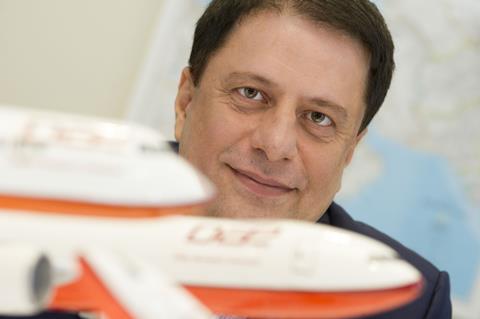 "Broadly speaking, 2021 has been a very good year on the back of a strong 2020, despite all the challenges," says Tarapore, who has led DAE for eight years. That was partly due, he maintains, to the position the firm found itself in going into the downturn. "Last year was one in which we could play offence instead of defence. We didn't have a large overhang of orders. We didn't have crazy SLB [sale and leaseback] deals we had made that looked insane."
REDUCED EXPOSURE
The fact that DAE's aircraft are spread among so many customers has reduced its exposure during the past 20 months, says Tarapore. At the three-quarter point of this year, DAE had a fleet of 425 aircraft, around 300 of which it owns, operated by 114 airlines. This gives an average of just over three aircraft per client. Take away equipment under contract for major client Emirates – ultimately a sister company and a rock-solid credit risk – and that ratio falls to about two.
"For the past decade or so, that has been a hallmark of how this franchise handled risk," says Tarapore. "Around 90% of our customers hold no more than 2% of the portfolio each. That distribution has been by design. In the good times, you have to run a lot harder, but in the bad times, it stops risk permeating. This is one of the reasons we didn't have to take an impairment [during the crisis]."
When we spoke to Tarapore ahead of the 2019 Dubai air show, he suggested that major aircraft orders, particularly of narrowbody aircraft, were off the cards, and that DAE was more likely to attain scale through organic growth or a further acquisition (in 2017 it more than doubled in size when it purchased Irish lessor AWAS). Prices of Airbus A320neo aircraft and even the then-grounded Boeing 737 Max were too high and delivery slots too distant, he said.
However, in April this year, DAE announced it was placing an order for 15 Max aircraft, its first for the re-engined narrowbody, although it has a 737 fleet of just over 100. It followed a sale-and-leaseback agreement last year with American Airlines for 18 new 737 Max 8s – the first of which was delivered at the end of 2020 – and a similar deal with Brazilian low-cost operator Gol for five of the same type.
Tarapore justifies the change of heart by saying that "2020 was a unique year that created new priorities for Boeing in particular". He adds: "For someone like us, with massive balance sheet capability, we were able to find the right deal for that small number of aircraft." All 15 aircraft have been placed, with some customers announced and others to follow. He says further "opportunistic" moves might follow, but "it's unlikely that we will place a 100- to 400-aircraft order."
NEWER TECHNOLOGY
Another large-scale acquisition is also not on the cards. "When we look at the world, we look at it from the vantage point of not having a large orderbook. For us, it wouldn't make sense to look at a large [acquisition] event, as all it would mean is acquiring 200, or whatever, current-technology assets. We are trying to gear our portfolio to newer assets, so it is better for us to wait two or three more years to buy something with a better mix of newer and older technology," he says.
Tarapore describes the 777F as a "gold dust asset" that will continue to be "the backbone of global e-commerce", even after a return of belly-hold capacity eases the squeeze for freight forwarders. However, he says DAE will stick to the factory-built version and not dabble in passenger-to-freighter programmes. He is also unconvinced as yet about the A350 freighter, describing it as having "attractive elements", but "we would have to be comfortable that the customer base will blossom".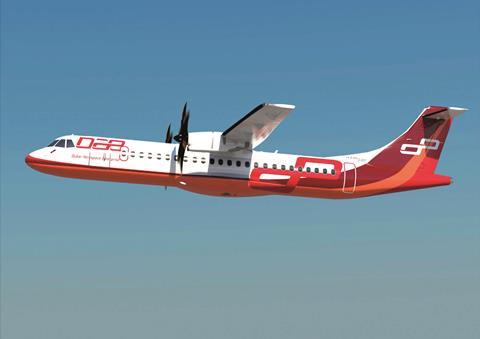 ATR 72-600s – of which DAE has 70 in its portfolio – are also a "phenomenal product", which Tarapore describes as "purpose-built for that 70-seat market, with a low trip cost, and, as a turboprop, very environmentally friendly". DAE would like to have more, he says: "We'd love to grow it, but ATR is not too happy at the moment with the growth of that market. When they figure it out, we'd be happy to grow with them, but we are content for now to be patient."
As well as AWAS, DAE's other major acquisition in the Tarapore era, in 2016, was Amman-based maintenance, repair and overhaul house Joramco, which forms the DAE Engineering part of the DAE Group. MRO had been part of the original vision of DAE when it was established in 2006. However, a move to develop a third-party MRO facility in Dubai fell by the wayside when DAE's ambitions were curtailed after the financial crisis of 2008.
Joramco's hangars are "full" and "our brand equity is strong with the quality and value combination we offer", says Tarapore, who has previously hinted at opening a second facility at Dubai's Al Maktoum airport. Is that still possible? "As I look around the clients we could have if we had a location here, the answer is, yes," he says. "And we definitely want to do something that takes that brand equity and allows us to grow the franchise. But I am quite conservative about deploying money to add hangar capacity on spec."
As far as next year is concerned, Tarapore is optimistic that a continuing global vaccine roll-out should send Covid-19 into reverse and restore both demand for flights and new equipment. "The thing about this downturn is that it was not a downturn of choice," he says. "Consumers didn't stop flying or businesses tighten their belt because they ran out of confidence. Recovery will be driven by how predictably we exit the pandemic conditions."