Embraer's defence unit is enjoying a busy Dubai air show, with Brazilian President Jair Bolsanaro among those to have received a tour of its KC-390 tanker/transport. Bolsanaro – who last week also attended the Dubai Expo during a visit to the region – was at the show on its opening day.
Already counting the Brazilian air force and export buyers Hungary and Portugal as customers for the distinctive twinjet airlifter, Embraer is looking to attract fresh business.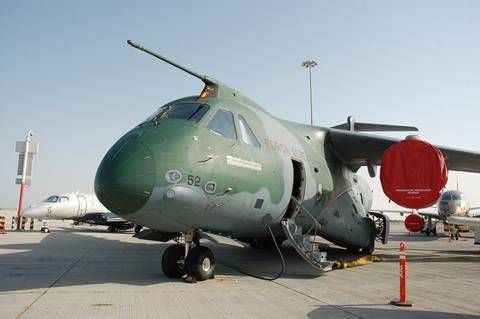 "We cannot give specific information about sales campaigns, but we have meaningful conversations with several countries around the world, which includes nations in the Middle East," says Embraer Defense & Security chief executive Jackson Schneider.
"We do believe that the C-390 is perfect for the Middle East environment," he tells FlightGlobal. "It has demonstrated successful take-offs and landings on unpaved runways, which is very relevant in the Middle East, given the diverse terrains in the region."
He adds: "As proven by the Brazilian air force, the C-390 can be deployed rapidly to respond to military operations, emergency situations and humanitarian relief missions, triggered by floods, forest fires, earthquakes or Covid-like situations."
Embraer has so far delivered four of a contracted 28 KC-390s to its domestic customer, with the nation's next five jets in the assembly phase. However, uncertainty surrounds the final size of the fleet, after Bolsanaro's government in May indicated that it could reduce its order.
"We have not been formally notified by the federal government, so we cannot comment on any specific point at this moment," Schneider says. "What we can reinforce is Embraer's commitment to the KC-390/C-390 Millennium project, as well as its belief in the export potential of this product, which brings unique innovations in its category."
He points to the company's over 50-year relationship with the Brazilian air force, where it serves as "a strategic partner in the development and implementation of high added value technological solutions and products".
Portugal's first of five on-order KC-390s also is currently in assembly, while production work recently commenced on Hungary's lead aircraft from a two-unit order.
For those nations considering a possible acquisition, Schneider's message is one of encouragement. "We are looking to establish long-term partnerships with our customers, which sometimes can even lead to new developments," he says.
Meanwhile, positioned in front of the KC-390 at the show is an A-29 Super Tucano armed turboprop, for which Embraer also sees regional and broader sales opportunities.
Again, Schneider references "meaningful conversations" as taking place with a number of nations, including in the Middle East, but he declines to identify individual sales prospects.
"Customers are interested in the A-29 Super Tucano because of its proven capabilities, with more than 430,000 flight hours in operations, of which over 60,000 flight hours have been spent in combat," he says.
With low acquisition and operating costs, the platform can perform light-attack, intelligence, surveillance and reconnaissance duties, and be used for pilot training. "These are some of the reasons the A-29 Super Tucano has been selected by more than 15 air forces in five different continents, including the United States Air Force, for its allies," he says.