Leonardo Helicopters expects to wrap up certification flight testing of its AW609 by August next year, as the tiltrotor nears the end of a decades-long development cycle.
And despite the pressures to finalise the test campaign, the manufacturer has managed to find time in the schedule to give the AW609 its Dubai air show debut, hot on the heels of an appearance at the nearby Dubai Expo 2020 site.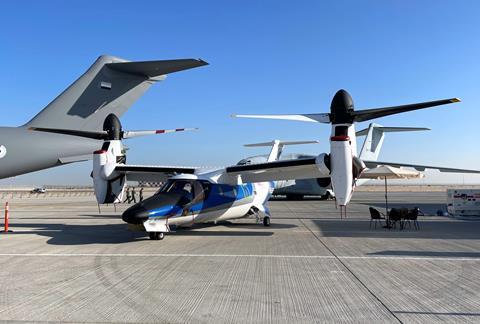 "Flight testing is more than half done," says Gianfranco Cito, head of AW609 flight testing, "we expect to finish next year. Our plan is to finish in August."
But Leonardo is staying quiet on when it expects to achieve certification for the tiltrotor. "It is event based, not date based," says William Sunick, head of tiltrotor segment marketing. "We are working methodically through the test points."
Leonardo chief executive Alessandro Profumo has previously said it would obtain US Federal Aviation Administration approval for the AW609 in 2022.
Work on the AW609 began in the late 1990s, initially in partnership with Bell, and a first flight took place in 2003. However, delays have repeatedly pushed back service entry, which now looks set for 2023.
To date, Leonardo has accumulated more than 1,600 flight hours across four prototypes, including an aircraft (N609AG) that was destroyed in a fatal crash in 2015.
There are now three prototypes flying, split between sites in Italy and Philadelphia, plus aircraft five, which is being used for ground-test activities, including electromagnetic effects trials, prior to joining the flight-test effort.
Although aircraft five is a serial example, it will be retained by the company as a demonstrator, says Sunick.
The aircraft at Dubai (N609PH) arrived in the country on 13 September having performed a 16h, multi-stop flight from Italy.
Cito says the visit to the Middle East is the first time the aircraft has been exposed to the region's operating conditions.
"We landed at a very sandy airport and actually we were not impacted by this type of environment," he says.
In all, the aircraft will be exposed to around 50 flight hours in the region, he says, providing valuable additional data for the test programme, not least of which is that the aircraft "has very powerful air conditioning".
Aircraft six, which is destined for launch operator Bristow Group, is currently in production and should arrive by March next year, says Cito.
Sunick describes Bristow, which inherited a two-unit order via its acquisition of Era Group, as a "wonderful launch customer".
"We look at the missions they fly and they are all the missions we are targeting with this aircraft; they are keen to use the aircraft and help develop that value proposition for the AW609."
However, he declines to disclose the size of the AW609's backlog and also remains tight lipped on the status of a tentative commitment for three aircraft from the UAE's armed forces that was unveiled at the Dubai show in 2015.
Facilities at the airframer's Philadelphia site have been "optimised" for AW609 production, says Sunick.