ACIA Aero Leasing on 13 November signed a letter of intent with Universal Hydrogen to take up to 30 of the latter's hydrogen conversion kits for turboprop aircraft.
ACIA said during a briefing at the Palm Jumeirah in Dubai that it expects to place 10 firm orders for ATR 72 conversion kits "with additional purchase rights for 20 more" for "various turboprop types".
"ACIA's diverse customer base allows us to have a major decarbonisation impact on regional aviation globally," says Paul Eremenko, Universal Hydrogen co-founder and chief executive. "ACIA's passenger and cargo aircraft leasing customers will be able to move to true zero emissions operations as early as the mid 2020s, putting them in the vanguard of clean aviation."
ACIA's chief executive Mick Mooney adds: "Our lessees are actively looking for ways to decrease overall costs and reduce their carbon footprint. Collaborating with Universal Hydrogen will have a lasting impact on the environment encouraging our customers and the communities they touch, to increase efforts towards environmental sustainability."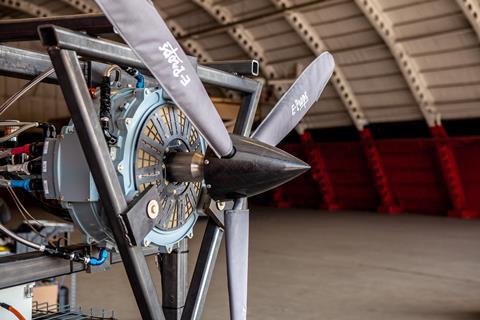 Following the aircraft conversions, Universal Hydrogen and ACIA say they will collaborate on marketing hydrogen fuel services to the latter's leasing customers.
Cirium fleets data suggests ACIA has a fleet of around 54 aircraft that include Embraer regional jets, ATR 72s and ATR 42s.
Universal Hydrogen is developing its conversion kit to retrofit existing regional aircraft with a hydrogen-electric powertrain that replaces the existing turboprop engines.
The conversion also accommodates, in the rear of the fuselage, Universal Hydrogen's "proprietary, lightweight, modular hydrogen capsules that are transported from green hydrogen production sites to the airport and loaded directly into the aircraft using the existing intermodal freight network and cargo handling equipment".
The company is aiming for the turboprop conversion to be in passenger service by 2025.
Universal Hydrogen also says it is "committed to helping" the widespread adoption of hydrogen propulsion on commercial airliners by "providing a global hydrogen distribution network that delivers green hydrogen to any commercial airport in the world at a cost far below that of jet fuel".
Universal Hydrogen has also signed deals with businesses including ASL Aviation Holdings and Icelandair in recent months.