Lockheed Martin has performed the first flight of a C-130J for Germany, as fresh sales opportunities look set to enable it to extend production of the tactical transport for the next decade-plus.
Conducted on 8 November, the milestone sortie for the Luftwaffe involved aircraft 5930 – the service's first of three stretched-fuselage C-130J-30s. Germany's configuration for the airlifter includes an electro-optical/infrared sensor turret installed beneath the nose.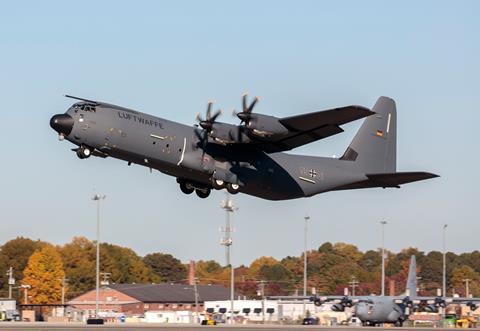 A second German air force example is also currently on the flight line at the company's Marietta, Georgia production site, says Lockheed Martin Aeronautics executive vice-president Greg Ulmer.
Berlin also has ordered three KC-130J tankers, with its new assets to be operated within a joint unit also including the French air force's four in-service C/KC-130Js at Evreux-Fauville air base.
Speaking to FlightGlobal at the Dubai air show on 15 November, Ulmer outlined multiple other sales opportunities for the C-130J.
"We still have a lot of interest from the US government, across all the services, in particular the US Navy, and the guard and reserve," he says. These have an ongoing requirement to replace legacy C-130Hs, "so that they have one C-130J fleet", he adds.
Lockheed is producing J-model aircraft at a rate of 24 per year, and Ulmer expects that a future fourth multi-year procurement contract, to be agreed with the US Department of Defense, will continue output at or around this rate. "We don't really see a demand that'll push us higher," he says.
In addition to producing airlifters for the US military, Lockheed's current export commitments for the type cover five aircraft each for Indonesia and New Zealand.
"A lot of international interest remains still for C-130J," Ulmer says.
Australia has begun studying replacement options for its current 12 Super Hercules. "They are talking to us about potential for 24 C-130J-30s and six KC-130Js," he says.
Canberra could reach a procurement decision within two or three years, he believes, with a request for proposals yet to be issued. Lockheed is likely to face competition for such a requirement from rivals including Airbus Defence & Space's A400M Atlas.
So, how long does the venerable Hercules – a design first flown in 1954 and delivered in the J-model guise since 1998 – have left as an in-production type?
"If you would have asked me that in 2000, I would have told you 2010-ish," says Ulmer, whose career background includes working as a flight-test engineer on the C-130J. "I foresee into the mid-2030s at this point," he adds, noting: "our biggest competitor is older C-130s."