This year's Dubai air show will feature exhibitors from a country that, at the time of the last gathering in 2019, the United Arab Emirates (UAE) did not even officially accept had a right to be on the map.
Events have moved very quickly in the 15 months since the Abraham Accords – brokered by then-US President Donald Trump – saw the UAE and Bahrain follow fellow Arab states Egypt and Jordan in establishing diplomatic links with Israel. Aerospace and aviation businesses have been among the biggest beneficiaries.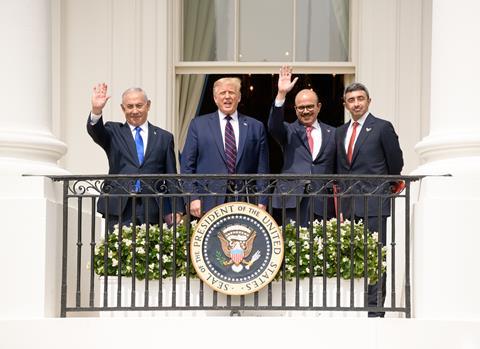 Despite the backdrop of Covid-19, the airways between Israel and its Gulf neighbours have begun to fill with connecting flights, and liveries never spotted at certain airports are now a regular sight. Dubai airlines Emirates and Flydubai, as well as Bahrain's Gulf Air, have begun flying to Tel Aviv, and Israeli airlines Arkia and Israir in the opposite direction. Meanwhile, in July El Al and Etihad began a codeshare pact, offering customers of the Israeli flag-carrier a range of previously unavailable global connections through Abu Dhabi.
TRAVEL RESTRICTIONS
While on-off travel restrictions and a flare-up of the Israel-Hamas conflict earlier this year have meant bumps along the way, tourism and business travel should render those routes lucrative once the pandemic recedes.
Israel offers a rich heritage to adherents of the three Abrahamic faiths, and, in Tel Aviv, the region's liveliest party spot; the UAE is the Arab world's commercial hub and a leisure destination in its own right. Both nations are keen to boost their high-tech and financial services sectors, and continue punching above their weights in the global economy.
There have also been moves in aviation services, with Etihad's training division providing simulator time to pilots from Israir. The chief executive of the Israeli leisure airline, Uri Sirkis, has pointed out that the 3h flight time from Tel Aviv makes the Abu Dhabi location attractive for him as a business, but he also has broader hopes about the potential of tourism between the two countries. In MRO, Israel Aerospace Industries (IAI) late last year signed a deal to provide line maintenance for Gulf Air at Tel Aviv's Ben Gurion airport.
However, it is on the industrial and engineering side that arguably the two most significant breakthroughs have been made since the signing of the accords in August 2020, with IAI central to both. In August, the state-owned Israeli aerospace and defence group said it was setting up two freighter conversion lines for Boeing 777-300ERs in Abu Dhabi, in cooperation with Etihad Engineering. IAI has already begun its latest programme to modify the large widebody type at its Ben Gurion site.
DEFENCE COLLABORATION
Meanwhile, IAI announced earlier this year that it was to partner with newly established Abu Dhabi-based group EDGE on developing a range of anti-unmanned air vehicle (UAV) systems for the UAE and the wider Gulf market. It was the first – and remains the only – major collaboration between the two countries' defence sectors. Under the memorandum of understanding (MoU), EDGE's electronic warfare subsidiary SIGN4L will share technology with IAI, which has spent many years developing missile defence technology as part of its national security infrastructure.
The partnership with Etihad Engineering is one of several passenger-to-freight (P2F) collaborations signed by IAI in the past 12 months, as the growth of e-commerce and pandemic-induced decline in airline belly-hold capacity has boosted P2F demand. The Israel firm is setting up another conversion line for the 777-300ER and -200LR in Seoul, South Korea, as well as one for 767-300ERs in Addis Ababa with Ethiopian Airways. It is also teaming with Italian maintenance company Atitech to establish a 737 P2F facility in Naples.
Yossi Melamed, the general manager of IAI's Aviation Group, says that the Abraham Accords gave managers from both outfits a chance to meet for the first time, and explore ways of working together. He has described the partnership as adding "a significant tier to the relations between Israel and the Gulf states". For Etihad Engineering – formerly Abu Dhabi Aircraft Technologies – the attraction is a new business line that allows it to further diversify from in-house maintenance work for the Abu Dhabi flag-carrier and other airlines.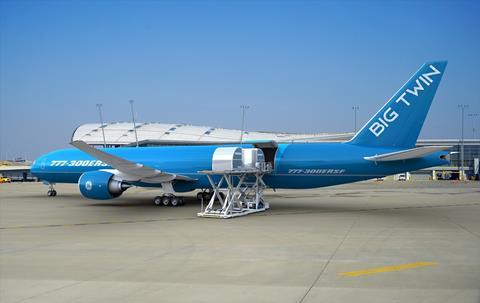 "We were very familiar with the Gulf maintenance operations but we couldn't work with them," says Melamed, who runs one of the world's most prolific freighter conversion businesses for Boeing aircraft. "The accords opened up a relationship, meaning we could visit each other's premises for the first time. They are great people, and we are really looking forward to working with them."
Work has already begun on establishing the conversion line, and Melamed expects the first passenger aircraft to arrive in the first quarter of 2023.
INTELLECTUAL PROPERTY
On the counter-UAV tie-up, IAI and EDGE have said the final product will comprise detection and identification systems, "soft kill" solutions for jamming or cyber take-over, and "hard kill" capacity, such as missiles, electromagnetic equipment or lasers. EDGE chief executive Faisal Al Bannai insists that, despite IAI's many years of experience in the field, the MoU will be a partnership in which both companies will contribute intellectual property. "We want to add value in all our relationships," he says. "We will not just be a re-seller of someone else's products."
One of the drivers for the Abraham Accords was a mutual recognition by Israel and the Gulf states of the regional threat posed by Iran, which remains hostile to Israel and suspicious of its Sunni neighbours. Although Israel is believed to have been tacitly cooperating on security matters with the UAE and even Saudi Arabia for years, and some trade links had begun to be established, until August 2020 it was difficult to enter the UAE with an Israeli passport. The accords make it possible for Israel and the Gulf countries to cooperate, with the USA and other allies, on wider security priorities.
The immediate visible sign of this for show-goers will be an Israeli representation at the Middle East's premium aerospace show – something that only the most optimistic observer of the region's politics might have thought possible just two years ago. Israeli industry's public debut in the Gulf might have come even earlier. But for a travel ban prompted by concern over rising Covid-19 cases, Abu Dhabi's IDEX show – which took place just six months after the signing of the accords, in February – would have featured an Israeli pavilion.