Rolls-Royce has dropped another strong hint that the UK manufacturer is seeking a return to the narrowbody engine market that it abandoned in 2011 when exiting the International Aero Engines consortium.
For the past several years Rolls-Royce has indicated that its developmental UltraFan engine, which is initially sized for a widebody jet, would also be scalable for narrowbody applications.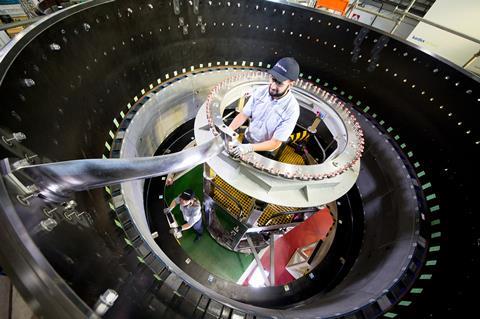 And speaking at a Dubai air show briefing today, Chris Cholerton, head of civil aerospace, reaffirmed that Rolls-Royce is looking at the single-aisle segment.
"We are keen to re-enter the narrowbody space when the opportunity arises," he says, while stressing there was no immediate application for the powerplant.
Cholerton says that Rolls-Royce would also seek a partner to address any single-aisle requirement.
First runs of the UltraFan engine are due to take place in 2022, with components, including the power gearbox, coming together at the company's site in Dahlewitz, Germany and its Demo Works facility in Derby.
"We are absolutely delighted with what we are seeing with this," he says, describing the new engine architecture as a "key step change" to deliver next-generation levels of performance.
Cholerton says the engine will first run on 100% sustainable aviation fuel (SAF), part of a wider push by the propulsion specialist to have all its production engines qualified for operation on unblended SAF by 2023, representing around 40% of the widebody fleet.
But Cholerton says governments will have to stimulate the market in order to ensure sufficient production of SAF to meet the industry's 10% goal by 2030 – roughly 400 times the current output.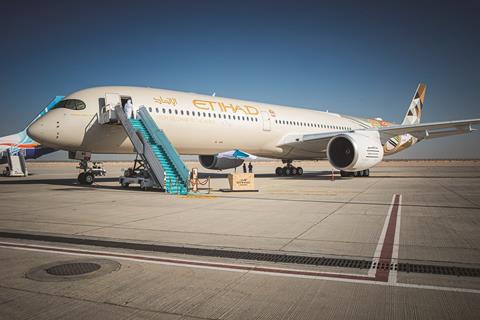 The company's sustainability strategy extends to collaboration with airlines, and on 14 November Rolls-Royce signed a memorandum of understanding with Abu Dhabi carrier Etihad to explore initiatives on the topic.
These will include using an Airbus A350 as a test aircraft to trial technologies such as SAF and digital systems to optimise performance.