Maintenance house Sabena Technics is teaming with Leonardo to market the Italian company's UK-manufactured Miysis directed infrared countermeasure (DIRCM) system to VIP aircraft operators in the Middle East, Europe, and Africa.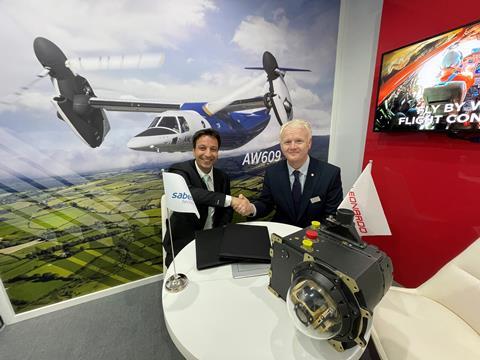 The two companies announced the partnership at the Dubai air show on 16 November.
Leonardo has been producing the missile protection system since 2013 and it is already installed on a number of UK and other NATO military aircraft. However, Sabena Technics says the agreement opens a largely untapped market for head-of-state and other government-operated business aircraft.
Leonardo's vice-president radar and advanced targeting Tony Innes says that, after a period of focusing on a handful of military customers, the product is now "readily exportable" thanks to "our careful selection of suppliers", a phrase that suggests that Miysis is free of the US International Traffic in Arms Regulations that limits the sale of products that contain sensitive US technology, although Innes will not confirm this.
While installing the system to each aircraft type will require a separate supplemental type certificate from the regulator, Sabena Technics' senior vice-president sales & business development Daniel Soltani says "this is what we do for a job". He adds: "We have experience of working across multiple aircraft types."
Unlike a flare-based countermeasures system, Miysis uses lasers to 'dazzle' an incoming missile's targeting sensor, deflecting it from its target. This means aircraft fitted with the kit can access many more airports, a key requirement of government VIP aircraft, says Soltani.
Its twin-head design gives spherical protection around an aircraft, without any blind spots, adds Innes.
Miysis is designed and built at Leonardo's plant in Edinburgh. Sabena Technics will install the equipment at its site in Bordeaux.