Boeing is poised to start the next phase of flight-testing with its T-7A Red Hawk, as the company continues to see strong market interest in the advanced jet trainer.
"We are about to embark on a high-alpha envelope expansion and spin programme," Dan Draeger, chief test pilot for T-7 and F-15 programmes, said at the Dubai air show on 14 November.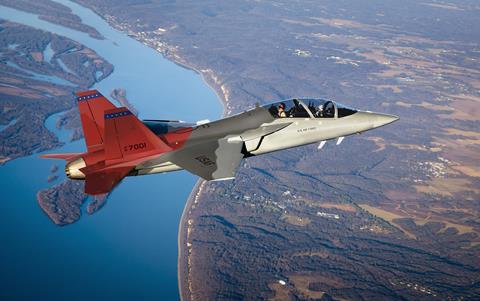 Boeing's pair of PRJ-standard jets have performed just over 300 sorties to date, achieving a maximum 28° angle of attack during engine qualification work, and a 36,000ft altitude.
"We're continuing to higher altitudes and slower speeds," says Draeger. The Red Hawk's GE Aviation F404 engine has been "completely bomb-proof" during the test campaign, he says, adding: "We're really happy with the performance.
"This is a fighter trainer, and we're demonstrating fighter-like performance," Draeger says. "It exhibits all of the characteristics you would expect of modern frontline fighters in terms of agility, roll rates, turn rates and g."
Boeing also is starting formal qualification tests on the Block 18 software that will be used with the programme's engineering manufacturing and development (EMD)-phase aircraft.
Five such flight-test articles will be flown in support of a US Air Force acquisition programme covering the delivery of 351 trainers. The first of these EMD aircraft will enter ground test in December, with its flight debut expected "very soon after". Final assembly is conducted in St Louis, Missouri, with development partner Saab delivering the trainer's aft fuselage section.
"Because of the digital [design] thread, we have been able to test subsystems on the airplane – things like the fuel distribution, oil and environmental control systems," Draeger says. "We're taking data on all of that and verifying the design."
Thom Breckenridge, vice-president of international business development for bombers and fighters, notes: "There is a lot of interest regionally here, also in Asia and Europe." The company has received requests for information from undisclosed nations, and is assessing interest in further developments of the platform, such as for light-attack applications.
"We are having fairly robust discussions about a potential growth configuration of the T-7," he says. "We are not going to wait until we have a contract to decide what that looks like. Those are things that we are doing now."
Meanwhile, Breckenridge is awaiting the outcome of Finland's HX fighter competition, with Helsinki expected to make a decision next month. Boeing is pitching its F/A-18E/F Super Hornet for the requirement, along with Growler electronic-attack derivative.
"The EA-18G is the key differentiator," he believes.
Finland is also considering the Dassault Rafale, Eurofighter Typhoon, Lockheed Martin F-35 and Saab Gripen E.